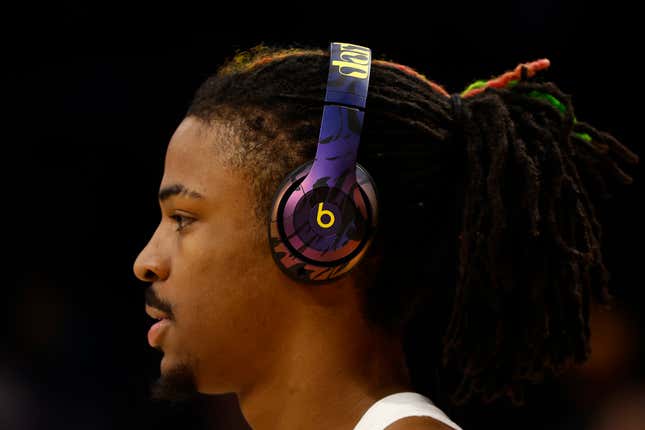 If Ja Morant was a bank robber, he'd probably livestream it. If Ja Morant stole cars, he'd more than likely post pictures of them. And if Ja Morant was possibly obsessed with drinking and clubbing and had an addiction to brandishing guns, in all likelihood, he'd show us. Oh wait, that's been happening for months now.

Who needs bad friends when you keep outing yourself?

Ja Morant flashes gun on social media AGAIN | Andy Reacts
Ja Morant flashes gun on social media AGAIN | Andy Reacts
Adam Silver will decide how soon Ja plays again
Within the next few hours or days, we'll know what NBA Commissioner Adam Silver is going to do. "I think Ja Morant is facing a lengthy, a significant suspension to start next season if indeed that was a firearm in his hand in that video," ESPN's Adrian Wojnarowski said on Get Up Monday morning. "I don't think Adam Silver is going to take this one lightly."

Silver wouldn't be in this position if he would've given Morant more than a "stern talking to" in March when he served an eight-game suspension for similar acts. Listing those acts would be a waste of time. We've all seen what Morant keeps doing because he keeps showing us.
"I can see the image that I painted over myself with my recent mistakes," Morant told Jalen Rose a few months ago. "But in the future, I'm going to show everybody who Ja really is, what I'm about and change this narrative that everybody got."
"He'd probably be the first one to tell you: 'Nothing is going to change immediately overnight. I'm going to learn and grow, but I'm going to get the skills and methods to do that both personally and professionally," Grizzlies head coach Taylor Jenkins said at the time, as he's also one of the people who keep enabling Morant.
Between Rose's soft interview — which should have been done by an actual journalist — the way the Grizzlies have protected their investment while making Dillon Brooks the scapegoat, and Silver's inadequate initial suspension, Morant's oncoming punishment is sure to be one that will upset his fans — or the ones who have a problem with accountability, even if they're 45-year-old men.
"I got fired for what? I got fired for having some entertainment," Paul Pierce recently said on I Am Athlete podcast, as he couldn't grasp how getting on the internet to show fans — like Morant — that he was smoking weed with strippers in the background while working for ESPN/Disney wasn't a good look. "I'm playing cards, [it's] my boy's birthday, there's girls dancing, and we're blowing some trees. What did I do wrong?"
Is Morant still the young face of the league?
A year ago, Morant was checking the boxes to be one of the future faces of the league — especially as the NBA needs more American-born stars, as Jayson Tatum was the lone American to make the All-NBA First Team, while James Harden was the last American to win MVP, back in 2018.
A year later, Morant is checking the boxes, again. This time to be a walking negative stereotype. A single father with a "baby mama?" Yup. "Unkempt hair" worn in locks? Yes. Black man with tattoos who drinks, jumps high, plays basketball, loves to dance, and plays with guns? Check, check, and check.
You know those t-shirts that read, "I Am My Ancestor's Wildest Dreams?" Well, Morant is trying to become their biggest nightmare. One of the most lifelong infuriating things about being Black in America is dealing with unfair and cruel stereotypes. It's a taxing mental game we play, as we tussle with being ourselves while also being "accepted." Because in this country, the only time Black people can be their true Black selves is at home, or in safe Black spaces.
And that's what's so frustrating about Morant. Despite all the racist stereotypes some thought he was, he was just a young star that was taking over the league, having fun, and proving that white America's rules for who and what's "marketable" were no longer applicable.
And then last year happened, and he kept running to the internet to show us he likes playing with guns. If Morant were white, the NRA would be featuring him in social media campaigns, and have him getting paid for speeches, all while making him the face of Second Amendment rights.
But, that's not the case. Because that important piece of American law was written before Black people were allowed to own guns or land. In fact, Black people weren't even considered human, just property. Morant would know that if he read more history books than Instagram captions. But, he chose not to. And now, Adam Silver has no choice but to levy a harsh suspension. This situation has always been about choices. The bad ones that Ja Morant has continually made. And the consequences that come with them.