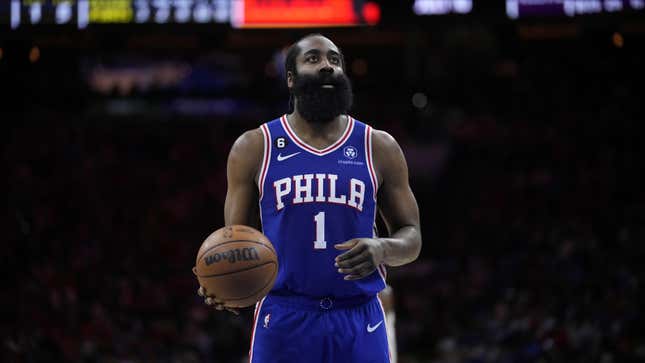 In his prime, James Harden was the star of the show. His ball dominance was unparalleled. Harden's expression of basketball is a sublime experience. His ball handling and passing artistry are one of a kind. During his penultimate season in Houston, Harden's 40.3 usage rate in 2018-19 nearly set an NBA record.
Harden's desire to return to that style of play and escape the league MVP's shadow may reportedly drive him out of Philly. According to Bleacher Report's NBA scuttlebutt, Harden will only entertain suitors that "present a competitive roster and the basketball freedom for the star to be himself."Once he opts into free agency, teams can offer Harden a max of four years, $201 million.

Harden is done living by anyone else's standards. He tried being the third wheel in Oklahoma City and discovered the gratification that comes from being "the man" in Houston. For nearly a decade, all eyes were on him when he walked into every arena, every strip club, night club, or after-party. Being Embiid's second fiddle was clearly not ideal either.

He was at his unhappiest when he compromised to be the top option on a contender. His experiment with Dwight Howard is remembered as a failure, but they reached the Western Conference Finals and were prosperous on the floor together, despite friction between the duo. However, both harbored dreams of being the man. Harden got shipped out, Kevin McHale was fired and Harden discovered his Shangri-La as the offensive deus ex machina in Mike D'Antoni's offensive attack.

The problem was that it didn't win games as his teams advanced deeper into the postseason.

In the regular season though, all that dancing with rock was majestic. Defenses in the postseason are too locked in to fall for Harden's tricks. He's no longer able to snake into the lane and rattle his way to the cup or the free throw stripe, or draw fouls as easily. The market isn't exactly bustling to throw a long-term deal at a barrel-chested, ball-dominant shooting guard who lost so much burst, he only recorded one dunk in the regular season. In his first 11 seasons, Harden averaged upwards of 30 dunks a season.
James Harden demanded a trade to Philly, now he wants out
Even coming up a CP3 hamstring short of the Finals in 2018 wouldn't appease him. Harden thought he could settle in as a third wheel between Kevin Durant and Kyrie Irving, but that wasn't cutting it, so he demanded a trade to Philadelphia for a reunion with the architect of his Rockets teams. He arrived out of shape and sluggish. Once it became apparent that Harden's star power had dimmed, the Sixers brought him back on a two-year deal with an opt-out that would allow him to prove he deserved a four-year commitment. Instead, Harden did what he always does. He shrunk under pressure while maintaining his delusions of grandeur.

Earlier this season, he told SLAM, "I'm a master of this game. This is year 14 for me — I adjust to how teams are guarding us, and I pick and choose where to facilitate. My role on the Sixers is different from 2017. So yes, the approach is different, but I'm still the same player as 2017, my role just changed slightly."

For year 15, he apparently prefers to be the big man in a small pond elsewhere. Reports have circulated for months that he prefers a Houston reunion. This prodigal son returning is unlikely though. Houston is in the midst of a youth movement. New coach Ime Udoka preaches accountability, somewhat ironically considering he was running around the Celtics organization Eric Beneting himself out of a job. But defensively, Udoka demanded effort and discipline, habits Harden can't be a role model for a group that needs positive influences.

Offensively, Udoka implored Jayson Tatum and Jaylen Brown to share the ball and make the extra pass. Harden's ball dominance is even harder to stomach as his athletic decline snowballs into an avalanche.

Harden wants the basketball equivalent of a Vegas residency. No more new hits. This is the stage of his career where he wants to collect checks and offer a daily supply of nostalgia with Mike D'Antoni iso-ball. Harden wanting to live out his golden basketball years just running the same broken basketball isos that made him a regular-season offensive gawd is extremely on-brand. I'd be disappointed if he did chase a title. Philly fans wanted more though. They wanted a Type A Jimmy Butler-caliber playoff leader.

Harden's broken free from the constraints of the sports talk debate disease that's infected modern NBA stars with the belief that their careers were useless without a ring. Harden isn't ring-chasing for our approval. Unfortunately, most teams aren't paying top dollar for a Harlem Globetrotter show though.

---
Follow DJ Dunson on Twitter: @cerebralsportex