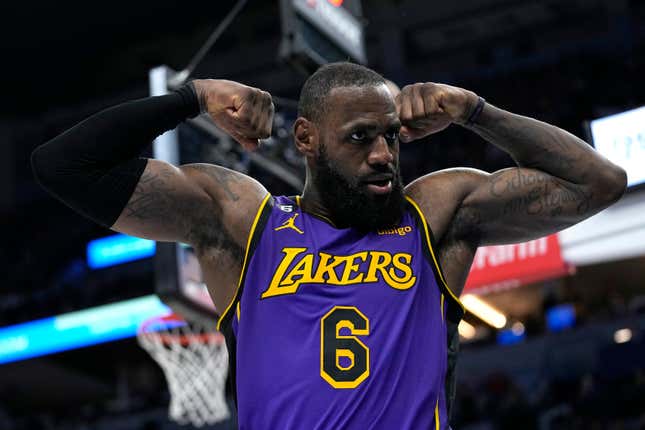 What appeared to be a lost Los Angeles Lakers season six weeks ago has sprouted wings in the final home stretch before the postseason. After missing countless weeks mending injuries in 2023, Anthony Davis and LeBron James returned to a lineup terraformed on the go.
Dawn Staley takes a stand | Google is Free
Just when it seemed like James was about to be relegated to playoff afterthought, a perfectly timed emergence of supporting stars who started the season elsewhere, or were buried on the bench, has helped put them back on the brink of the playoff centerstage. Austin Reaves emerged as a secondary shot creator, floor spacer, and shotmaker. Anthony Davis has performed like the All-Galaxy forward who was James' partner-in-crime when they won the bubble title together in 2020.

They still can't hit the broadside of a barn, as one of the league's most anemic 3-pointing shooting teams since the trade deadline, but the pieces they acquired at the trade deadline have clicked into the league's best defensive unit and since March 1, the Milwaukee Bucks have been the only team with a better record than Los Angeles.

Contributions from trade pieces
Rather than attempting to mold themselves into a stretchy, finesse five-out lineup stocked with flamethrowing shooters, general manager Rob Pelinka went all-in on an all-obelisk lineup, acquiring 7-footer Mo Bamba, Jarred Vanderbilt, D'Angelo Russell, and Rui Hachimura among others. In addition to punting Russell Westbrook, Pelinka traded Thomas Bryant, who was putting up dazzling numbers filling Davis' void, but weighing down their team defense.

The new and improved D'Angelo Russell won't wow you with his defensive intensity, but his 6-foot-4 size at point guard, coupled with a 6-foot-10 wingspan has its benefits. That length allows him to bother other guards and to better match up with bigger wings on switches. He's also been a major upgrade over Westbrook, whose erratic play was impaling the offensive continuity and spacing in Darvin Ham's motion offense.

What this Russell lacks in athleticism compared to Westbrook, he makes up for with shooting. In March, Russell averaged 20 points, 7.1 assists, and 2.8 rebounds, while shooting 48.5 percent from the field and 40.3 percent from distance. Russell's size also enables him to thrive off-ball in lineups alongside James and Reaves.

The most underrated deadline acquisition L.A. has integrated into their lineup was forward Jarred Vanderbilt. The former Kentucky one-and-done star has burnished his credentials as one of the savviest and instinctual defenders in the league. Vanderbilt has been a skeleton key unlocking a ferocious defensive lineup. He's extinguished everyone from Karl-Anthony Towns to Anthony Edwards to Luka Dončić to Devin Booker.
LeBron is still LeBron until further notice
Meanwhile, at the top of the hierarchy is James, the master chemist. He's stirred the mixture of personalities and playing styles for four championship squads, but this is his most difficult test yet. These Lakers have hovered between the play-in game and the lottery for the last four months. Furthering the degree of difficulty is that James is no spring chicken anymore. Yet, everyone who remembers the "old LeBron" swears that that "old LeBron" is on the verge of one last playoff Renaissance.
Recently, James' unofficial coat-tail rider Brian Windhorst suggested that the NBA's scoring king, Steph Curry, and Kevin Durant, are about to turn the Western Conference on their head from below the bottom four seeds.

"[Kevin] Durant, LeBron [James], [Steph] Curry and the rest of those Warriors — they smell something. They smell weakness in the Western Conference. … It is a weak conference," the NBA writer said.

We've seen James do that before after a tumultuous regular season in 2018. Can the 2023 Lakers storm through the West with the same ferocity the Cavs did in the 2018 Eastern Conference? After all the setbacks, including a tendon injury in his right foot that forced James to visit the "LeBron James of feet" for treatment, the Lakers are only half a game behind the Clippers for the West's fifth seed.

J.R. Smith weighs in
J.R. Smith, one of the leading scorers on James' Cleveland teams and a source of one of the most infamous memes ever manifested, isn't surprised by the direction L.A.'s season is trending in.

"His time of year, I don't care what team he's on," Smith told Deadspin. He figures out what everybody does best and he makes sure you do that at a higher level. His IQ is even higher because he's putting you in a position to succeed consistently."
This version of James requires more apex Anthony Davis than the hesitant version who has a habit of coasting and disappearing into the corner in tight contests.

Added Smith, "And now with him being older and his body not being as athletic as he 'used' to be, he's out-thinking everybody so much that he's still able to put up the same numbers he's been doing in year 20."
During James' final season as a Cavalier back in 2018, the Cavaliers also did a hard reset at midseason. Kyrie Irving had been traded in the offseason and James had one foot hanging out the door. It felt like Koby Altman was shuffling chairs on the Titanic when he pulled the trigger on a prehistoric Dwyane Wade, ultimately shipped him back to Miami, then swapped out Isaiah Thomas, Iman Shumpert, and Jae Crowder for Jordan Clarkson, George Hill, Rodney Hood, and Larry Nance Jr. at the trade deadline. Yet, Those Cavs coasted through the regular season to a fourth seed in the Eastern Conference even after a surge in the final month resulted in them winning 10 of their final 13 games.

Once the postseason began, James locked into his god mode and squeezed every single ounce of potential out of that group in nearly single-handedly leading the Cavaliers to the NBA Finals.

James was five years younger then but didn't have the advantage of an auxiliary boost like AD. In Smith's opinion, It was only a matter of time before James solved the reconfigured roster Rubix cube and got everyone in their best position to succeed.

"There's very few people playing the game at the IQ level that he's playing it at, and he's just figuring it out through injuries and everything else," Smith explained. "It's not even close."