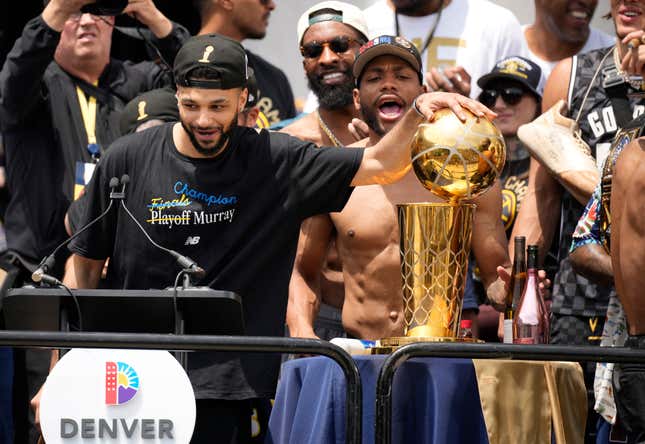 The NBA announced Wednesday morning that the Dallas Mavericks will take on Euro League champions Real Madrid in a preseason exhibition on Oct. 10 in Spain. It isn't unusual for the NBA to send teams to other countries for games before the start of the regular season, but this announcement's timing has raised eyebrows. It comes only days after USA Track & Field star Noah Lyles kicked up dust, claiming the NBA Finals winners are not "world champions."
Will the NBA In-Season Tournament hold any value? | Agree to Disagree
"You know what hurts me the most is that I have to watch the NBA Finals, and they have 'world champion' on their head. World champion of what? The United States?" Lyles explained.
"Don't get me wrong. I love the U.S., at times, but that ain't the world. That is not the world. We are the world. We have almost every country out here fighting, thriving, putting on their flag to show that they are represented. There ain't no flags in the NBA."
Lyles likely anticipated some backlash, which he received heavily from the NBA fraternity. Several ballers, from stars to role players, came running with capes to defend their league. As they should. Kevin Durant, Draymond Green, Udonis Haslem, Aaron Gordon, and others quickly jumped on Lyles' neck.
Obviously, we know the best players in the world all congregate to play 82 games, then engage in a four-round tournament to determine the best team in the association. There are players from all over the world representing NBA teams. This isn't the 1970s, where just about everybody in the league was born and raised somewhere in the United States. The NBA is a global game now, more than ever.
If you look at it in the literal sense in which Lyles made his claims, these NBA teams don't play other teams from around the world. Not in games that matter on the schedule, anyway. So the timing of this announcement for the Mavs vs. Real Madrid in October is funny. Something like this isn't set up overnight in reaction to negative comments, but the timing of the announcement is another issue.
Why was the game announced now?
It really makes you wonder if this news was initially planned to be released when it was. Or did the uproar over Lyles' comment present the perfect opportunity to build up anticipation for the exhibition in Spain. Technically, Lyles isn't wrong in what he said. All NBA games that matter are played between teams within the Association, primarily in America. San Antonio Spurs head coach Greg Popovich said the same thing years ago and nobody took issue.
"There are no world champions in the NBA, so anybody that has the flag up that says world champions is not correct… I don't remember anybody playing anybody outside our borders to get that tag. Isn't that true? I keep waiting for somebody to tell me I've missed something.'… I know sometimes we, as arrogant Americans, don't respond to the rest of the world, but it's true. There's a big world out there," said Popovich in 2010, speaking to the Boston Herald.
There wasn't a lot of controversy around what coach Pop said more than a decade ago. But considering the source, most players then or now wouldn't call Popovich on his claims. In 2010, Pop was already a four-time NBA champion. He's earned the right to say pretty much whatever he feels about the NBA and basketball in general. Most NBA players, past or present, can respect that, even if they aren't fond of Pop personally.
Once again, this is a situation that comes down to the messenger. Lyles said in his own words what Popovich noted 13 years ago. But the track & field standout isn't an NBA legend. He isn't even a player. Those who jumped up, many of whom have won titles in the NBA, did so because they felt attacked. Even if it wasn't Lyles' intent, in some ways, he set out to diminish what these guys have accomplished. Whether anyone considers it a world championship or not, winning the NBA Finals is not easy.
Five franchises have won the bulk of NBA championships. The Boston Celtics, Los Angeles Lakers, Golden State Warriors, Chicago Bulls, and San Antonio Spurs have won 52 NBA titles combined. Miami, Philly, and Detroit each have three championships, while Milwaukee, Houston, and New York have two apiece. Then, 10 one-hit wonders also managed to climb to the top of the NBA mountain for a short stint.
So, championships in the NBA aren't just being handed out like candy corn on Halloween. It's an outstanding achievement, and even though dudes may have gotten a bit in their feelings, we can also understand why. Lyles hit home with his rant, and these professionals felt some kind of way.
But the way the NBA is heading with this new in-season tournament and the success of the play-in tourney, we could reach a point where NBA teams play other teams from around the world more frequently, but in games that mean something. The Association is constantly looking to expand, and what better way than to put your best up against the world with all the marbles on the line.