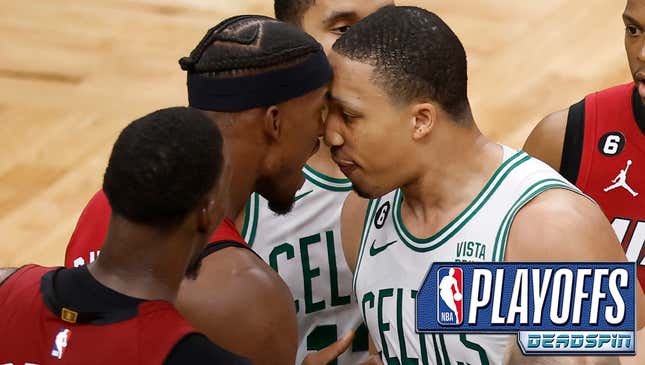 Forget what you've heard. The Miami Heat's Jimmy Butler is the most dangerous weapon left in the NBA playoffs. Boston Celtics forward Grant Williams found that out the hard way during game two of the Eastern Conference Finals Friday night. Williams chose the trash talk route and, of all people, chose Butler as his verbal sparring partner. As you can imagine, that didn't work out for Williams or Beantown as the Heat went on to win and take a 2-0 lead in the series behind playoff Jimmy's 27 points, eight rebounds, six assists, three steals, and two blocks.
Lakers fans fall too deep into the ButtCrack
You're probably wondering why Williams, a player who's never averaged double figures in the NBA and has five games this postseason where he didn't even score, would dare buck up to Butler. We'll probably never know why it was him, but someone had to do it. Boston's leaders Jayson Tatum and Jaylen Brown haven't stepped the way they've needed to in crunch time, so apparently, Williams went rogue and decided to try and play mind games with Butler. Williams soon found out that was the wrong way to approach the opposition.
Brown was asked about his teammate poking the bear that is Butler after the game, and he didn't even have an answer. Butler isn't the guy whose head you try to get into, especially when you're some young player coming off the bench. That's not a battle you're going to win too often. After all, we're talking about a guy who trolled people last summer by putting extensions in his hair and rocking long braids before the start of the season. He doesn't care and certainly doesn't take trash talk from Grant Williams seriously. That was evident by the look on Jimmy's face following a three in the fourth quarter by Williams, where the smack talk began.
From there, Butler went on a tear and shredded the Celtics' defense down the stretch, along with help from his supporting cast. Boston simply hasn't executed down late in either of the first two games of this series and now they shift to South Beach for the next two. After completely losing the home-court advantage, it's time for the Celtics to wake up and make adjustments. The first one needs to be Williams easing up on the trash talk and Tatum and Brown stepping into that role. If you're going down, you want to go down with your stars taking the lead rather than a role player.