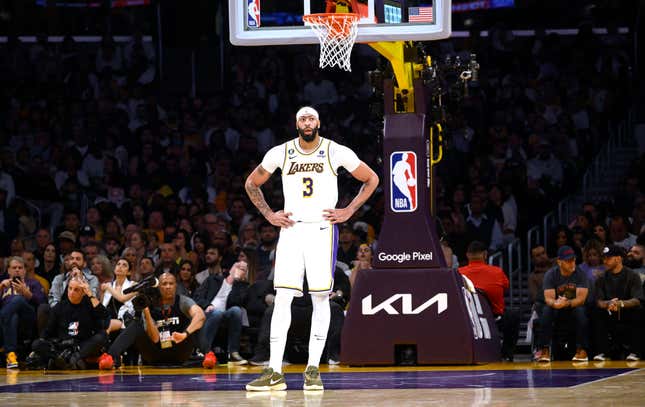 The Los Angeles Lakers and their fan base have been hit with a heavy dose of reality in the Western Conference Finals against the Denver Nuggets. They've been a nice "redemption" story after bouncing back from a horrible start to the season, but it's all over. On Saturday night, the Lakers fell into a 3-0 hole that not even the great LeBron James could help them escape. The fans had begun to believe again, and most expected them to win coming into this series against Denver.

Can the new-look Lakers make a deep playoff run? | Agree to Disagree
No NBA team has ever come back from a 3-0 deficit
Lakers fans can jump online and show all the fake hubris they want, but this thing is over. No NBA team has ever come back from being down three games to zero. In fact, only three teams have come back to tie a series after falling behind in such a manner.
The New York Knicks fell into that 3-0 hole before losing the 1951 Finals to the Rochester Royals in seven games. In '94, the Denver Nuggets nearly pulled off the impossible a second time but were eliminated in seven by the Utah Jazz in the Western Conference Semifinals. They'd already made history by defeating the Seattle Supersonics in five games as the No. 8 seed in the first round. Then finally, in '03, the Portland Trailblazers lost to the Dallas Mavericks in seven games in their first-round series.
So, there is some hope and precedent for teams climbing back into such a series,' but it's not often we see 3-0 become 3-3 and head to game seven. In all three instances where teams came back after being down 3-0, they were all the visiting team and had to play that game seven on the road. Yet another obstacle to overcome that no franchise has been able to do.
But it's been 20 years since the Blazers climbed back into that series against the Mavs, and this is LeBron's 20th season in the association, so maybe that's the silver lining. Lakers fans are looking for anything to cling onto at this point, but the time for talking is done. It was a nice run, and the '22-23 Lakers made it further than anyone could've predicted. The Lakers are all about hanging banners, but this time, it seems they'll have to settle for second in the west.