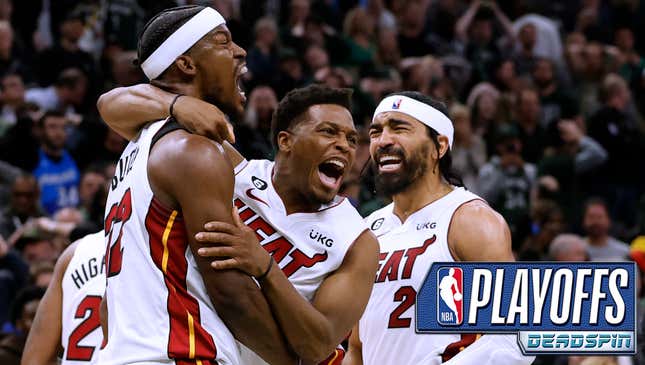 Heat culture is a thing and something we've heard about for years. Despite Jimmy Butler's denial, "Playoff Jimmy" is also a thing we've witnessed over the past few years in May and June. Another phenomenon that's becoming clear is the resurgence of Kyle Lowry. Lowry, 37, had to put forth the effort to turn his fortunes around from 2022's lackluster playoff performance. Still, the words of Pat Riley following last year's run to the Eastern Conference Finals likely played just as big of a part.
"He definitely is going to have to address that, and it will be addressed. I definitely think he can be in better shape," Riley said. "We'll address it and try to help him."
Draymond's stomp was uncalled for, but he made the NBA Playoffs fun | Keep it a Buck(et)
Hampered by injuries and seemingly age during the Heat's run to game seven of the ECF against Boston just 12 months ago, Lowry looked washed and clearly not in the best shape. Anyone who's followed the NBA closely over the years knows how seriously a Riley-run organization takes preparation and conditioning.
Some may have seen Riley's words as "shaming," others as motivation. Lowry used them as the latter and has emerged as one of the more important cogs in the Heat lineup. What we're seeing from Lowry in these playoffs is what Miami expected when they acquired him prior to the start of the 2021-22 campaign.
Lowry is one of the best players coming off the bench this postseason
To this point in the '23 postseason, Lowry ranks top three among non-starters in assists, steals, and blocks. His 15-point outburst in game one of the ECF on Wednesday night helped propel Miami to a 1-0 lead in the series, snatching away home-court advantage from Boston. Last year Lowry missed eight of the Heat's 18 playoff games due to injury. This postseason he's suited up for all 12 thus far and has scored at least 10 points in seven. He scored in double-digits just four times last year.
At age 37, Lowry looks to be in his best shape of the past few years. It's visible physically and in Lowry's play and his finally being healthy enough to contribute on the court. As the No. 8 seed, there's really no good reason to explain how the Heat are making this improbable run after a disappointing regular season. However, we do know this, Heat culture is real, and they believe it in south beach. Butler may epitomize that culture, but Lowry is a huge part of it, and his experience is paying dividends in the playoffs.