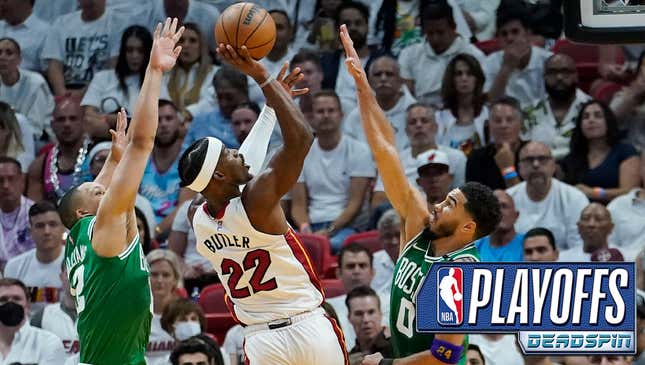 In a rematch of last year's Eastern Conference Finals, the Boston Celtics and Miami Heat are set to square off for the third time in four years to crown the Beast in the East. While the Celtics remain the No. 2 seed, the Heat have been forced to defy the odds of returning to the ECF as the No. 8 seed this time. Last year Miami posted the best record in the East, and this postseason, they eliminated the best regular season squad in the East by knocking out the Milwaukee Bucks in five games.

This has become quite the postseason rivalry between the Celtics and Heat dating back to 2020 in Orlando. Miami took that matchup in six games, then moved on to face James and the Lakers, where they fell in six. Last year Boston got the best of Miami, and it all came down to a Jimmy Butler transition three-point attempt that came up a little short, helping the Celtics advance to the NBA Finals, where they lost to Golden State.
Now we've got the rubber match with a trip to the Finals at stake yet again. Boston is the clear favorite this time and is the favorite to win it all and capture championship No. 18. Of course, the NBA would love to have L.A. vs. Boston with title No. 18 within both franchises' reach. That storyline writes itself. Also, LeBron James is chasing his fifth ring while Jayson Tatum and Jaylen Brown are still hunting for their first Larry O'Brien trophy.
Will it once again be Playoff Jimmy time?
But you know there's at least one man in Miami who likely frowns whenever he hears this storyline, and that's Jimmy Butler. Playoff Jimmy, Jimmy "Himmy," or any other nickname he's garnered during his time in South Beach. Butler was phenomenal in the first round against the Bucks, posting games of 35, 42, and 56 en route to gentlemen sweeping the No. 1 overall seed right out of the tournament. In the second round against the New York Knicks, Butler never scored more than 28 points, and the Heat took care of them in six. And Jimmy even sat out game two due to an injury. He was never worried about the Knicks like most of us outside NYC.
This means Butler is overdue for one of those outstanding performances, and it could happen in game one in Boston. In game one of last year's ECF, Butler dropped 41 on the Celtics (in Miami) while making 17 of 18 free throw attempts and no three-pointers, which is crazy in today's NBA. While the seeding of No. 8 vs. No. 2 says Boston should have a clear advantage, the recent postseason history of these teams says otherwise.
Boston clearly has the deeper, more talent-heavy roster, but there's something about Butler and these Heat that makes them rise up against the C's. Besides names like Butler, Kyle Lowry, Bam Adebayo, and Kevin Love, the Heat are full of guys nobody knew before last year's run to the ECF. Caleb Martin, Gabe Vincent, and Max Strus have been tremendous for Miami over the past two seasons at different times. This year they added the veteran presence and experience of Love, who's had a few moments this postseason.
The Heat have played well above anyone's expectations, but the Celtics are such a deep team that it's hard for most to see Miami repeating 2020, and eliminating the Celtics again. After finally breaking through and getting to the NBA Finals last year, Tatum, Brown, and company should be hungry and ready to correct their mistakes in last year's loss to the Warriors. As great as Butler has been, the Celtics should be the only thing standing in their own way. If Boston plays up to their capability, this shouldn't be another seven-game thriller.
Where the worry should come for Boston fans is when the Celtics allow teams to hang around. And in this matchup, if it's close late, I'm taking Butler to get the job done more often than not. He's proven to have what it takes in close games, while Tatum and Brown have shown they can come up small sometimes when things get tight. That's why another upset by Miami isn't as far-fetched as it usually would be with most other eight seeds we've seen over the years.
If Tatum and Brown bring their A-game each night of this series, then what Butler does could become moot. Let's not forget about Marcus Smart, who can occasionally have a breakout game or two for Boston. That's what Miami will need to focus on, keeping the supporting cast of the Celtics from getting too comfortable on offense. You're not entirely shutting down Tatum or Brown too often, but like any championship-caliber team, they're even harder to beat when the others get it going. And we just saw how Tatum can go off as he set a new game-seven record scoring 51 points while sending Philly home for the summer.
Should this series be half as good as last year, we're in for a treat and shouldn't be shocked if the lower seed comes out on top again, like the previous two times these teams got together in the conference finals.