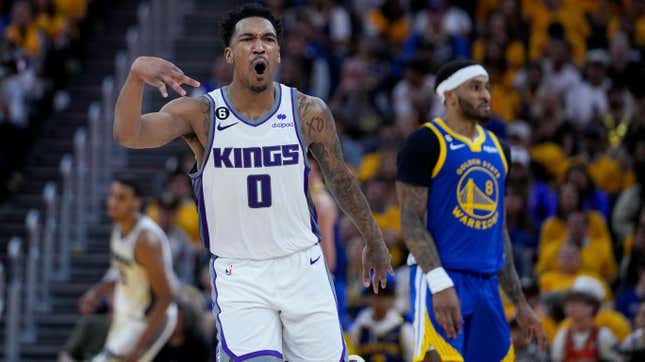 Despite the public's waning confidence in the Memphis Grizzlies since the injury bug hit their big men and Ja Morant's self-imposed hiatus, a lot of people still picked the Grizz to win this first-round Western Conference matchup. While it became evident pretty quickly that they were overmatched, outwitted, and too banged up to take down the Los Angeles Lakers, they imploded in spectacular fashion. It's basically the polar opposite of the explosion happening in Sacramento.
Chris Paul should ride the bench next season | Keep it a Buck(et)
A lot of the experts' reasoning for backing the playoff teams that they do comes from previous playoff experience. Memphis made it to the second round a year ago, and were beaten by the eventual NBA champions. It was the kind of showing that traditionally leads to future success. However, there are two points to going through losing. The first is the experience, and the second is the humility. The Grizzlies weren't humbled at all last year, and if anything it only boosted their already sky-high confidence.
How else can you explain Dillon Brooks talking about poking bears, and then going 24-for-77 on the series? Yes, they were without Steven Adams and Brandon Clarke, and Morant was banged up. It's still no excuse to get beat by 40 in an elimination game.
Friday was beyond humiliating. Every issue Memphis has had came to a head in embarrassing fashion because the Lakers were the only team who came in knowing it was a must-win game.
In addition to knowing they need to replace Brooks, the Grizzlies are now acutely aware of what they need to work on and how far away they actually are from being a real contender.
No one is entitled to a ring, and not everyone learns the necessary lessons the first time around. Morant's postgame came off like a guy who's just realizing the ramifications of his actions, and despite what anybody thinks about how long it took for him to figure that out, that's progress.
A light went on for Sacramento, and it's not just the Beam
This fucking series — which is the only way to address Kings-Warriors — is the best. If I say how impressed I am with Mike Brown, do I win something for being the 100,000th sports writer to do so? Here's to hoping the prize is tickets to Game 7 because that environment is going to be euphoric.
Brown's decision to reach into his bench and dig out Terence Davis and Trey Lyles to go small flipped the game, and possibly the series. The two only had 19 points between them, but it opened up the floor for De'Aaron Fox and Malik Monk to operate, while also pulling Draymond Green away from the basket in help defense situations. They out small-balled the Warriors, which is exactly the opposite of how we think teams are supposed to play Golden State.
My hypothesis for why Sacramento has been so fearless against the defending champs is that a lot of these players have been stepped on and disregarded for so long that they aren't taking the moment for granted. This Kings club feels similar to the Phoenix Suns of a few years ago right around the time they got Chris Paul.
Remember, they went undefeated in the Bubble and were on a lot of people's radar before adding the Point God, and making the NBA Finals the very next season. Domantas Sabonis isn't CP3, but he has almost validated his teammates in the same way, and Brown's coaching has pushed any stragglers over the top. The Fox leap this season/postseason reminds me of Devin Booker a few years ago when he finally turned experience, talent, and angst into winning.
My guess is the Kings take Game 7 because Friday night felt tectonic. It was the kind of statement we thought the Grizzlies were going to give us when they were rolling earlier this season.
Sacramento's success seems sustainable even if the Kings drop a blood bath to the Dubs on Sunday. Like those Suns who had a legit supporting cast and stars in place and went to another level of basketball, I'm confident the corner is turned because of the arduous path it took Fox, Sabonis, Monk, and Brown to get there.