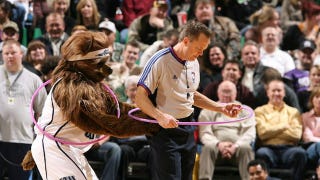 NBA referee Bill Spooner is really forking mad about the mean tweet by AP reporter Jon Krawczynski during a Timberwolves-Rockets game on January 24. In the second quarter of the game, Spooner called a foul on Timberwolves forward Anthony Tolliver. Aaron Brooks went to the line and hit two free throws for the Rockets. Minnesota coach Kurt Rambis cut into Spooner, who promised to review the foul at halftime. Rambis then asked Spooner how he'd get the points back. What happened next will be decided in federal court.
Spooner's version: He ignored Rambis, put his whistle in his mouth and went back to work.
Krawczynski's version (as conveyed to the world by Twitter that evening at 7:42 p.m. Central Standard time):
Ref Bill Spooner told Rambis he'd "get it back" after a bad call. Then he made an even worse call on Rockets. That's NBA officiating folks.
Spooner has now sued for defamation. He wants more than $75,000 in damages and a retraction. The AP is standing by its reporter. Rambis could seemingly clear this up. Does the suit have merit or is it just a lack of pies?