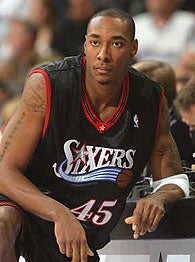 As the ESPN blitz ramps up for all John Amaechi, all the time over the next week, they've been helpfully compiling current athlete and coach reactions to Amaechi's "revelation." As you might suspect, most players have been coached to say, "Hey, no problem, all good, I just want to win," but, inevitably, some fun quotes have sneaked out a bit. LeBron James says, "It's something I'd have to evaluate. You take showers together, you're on the bus, you talk about things. With teammates, you have to be trustworthy. If you're gay and you're not admitting that you are, you're not trustworthy. It's the locker room code; it's a trust factor." We're not sure we understand that — we're sure no player has ever kept any aspect of their personal life private from their teammates, nope — but it's still not quite as much fun as Shavlick Randolph's ""As long as you don't bring your gayness on me, I'm fine," quote. But our favorite, as quoted from Just Call Me Juice, is from the 76ers' Steven Hunter:
"For real? He's gay for real? Nowadays it's proven that people can live double lives. I watch a lot of TV, so I see a lot of sick perverted stuff about married men running around with gay guys and all types of foolishness."
This, we believe, is yet another reference to that famous "On The Down Low" episode of Oprah that has somehow wormed its way into the public consciousness. But Hunter is right: It is proven that people can live double lives. Nowadays. Proven by science.
Amaechi News Roundup [ESPN]
Keep Your Gayness Away From Shavlick [Just Call Me Juice]