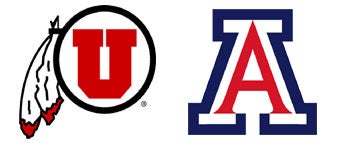 Midwest Region: No. 5 Utah (24-9) vs. No. 12 Arizona (19-13)
When: Friday, 7:10 p.m., EDT
Where: American Airlines Arena, Miami, Florida

UTAH UTES

1) Fun Facts The men's basketball team won the NCAA title in 1944 and the NIT crown in 1947. Arnie Ferrin, the only four-time All-American in Utah basketball history, played for both the 1944 and 1947 teams. He also went on to help the Minneapolis Lakers win NBA Championships in 1949 and 1951. Wat Misaka, the first person of Asian descent to play in the NBA, also played for Utah during this era. The University of Utah's mascot started out as the "Runnin' Redskins", which was changed in 1970 because of its lack of political correctness.
2) Turnaround In only his second year on the job Coach Jim Boylen has lead the Utes to a MWC co-championship with a 21-9 record heading into the MWC tournament. (Ed.: Which they won.) In May 2007 he inherited a 11-19 team from Ray Giacoletti, who is currently an assistant at Gonzaga. Last year Boylen coached the Utes to the second round of the CBI where they lost to eventual champion Tulsa and finished the year at 18-15.
3) Signature win Luke Nevill scored 23 points as Utah destroyed LSU 91-61 on January 6th in Salt Lake City. He was named the MWC Player of the Year and if the 7-2 center heats up in March the Utes could easily wind up in the Sweet Sixteen. — Jon "snowpunter" Marsh
1) Not bad, just dumb Everyone is in agreement that the Arizona Wildcats have no business being in the NCAA tournament this year, with their paper-thin 21 wins and delightfully medicore 9-9 conference record. But everyone forgets that this team completely gave away two victories with spectacularly boneheaded plays. So that says something right? Just think about how impressive their record would look if their players only understood the basic strategies of basketball. And what did smarts ever have to do with being gooder?
2) Tradition! You might suspect that the Wildcats were given a pass into the dance simply to keep their 24-year (now 25-year) tournament appearance streak intact. You're probably right. Most of the players in this year's tournament (maybe all?) were not even alive when that streak began and no one wants to end all that just because some other team might be more deserving. This year's 12 seed is the first time during the streak that Wildcats started lower than a 10.
3) The Ghost of Lute Olsen Most observers (i.e., your humble editor) believed that Arizona's season was headed for disaster after coach Lute Olsen abruptly retired days before the season began. Their first choice to replace him fled in panic—as did many of their recruits—and "interim" head coach Russ Pennell inherited a program in seeming disarray. It didn't help that he had a team loaded with freshmen and inexperienced sophomores. Fortunately, juniors Jordan Hill and Chase "The Face" Buddinger have risen to the challenge, scoring nearly 18 ppg a piece and leading the young squad through a rocky beginning to a nice solid middle. Losing five of their last six games made for a less than ideal end, but considering where they started they should be proud that it wasn't all six. — Dashiell
Join the Deadspin Pants Party Group Pool [ESPN]
Download the Deadspin Bracket [PDF or JPG]