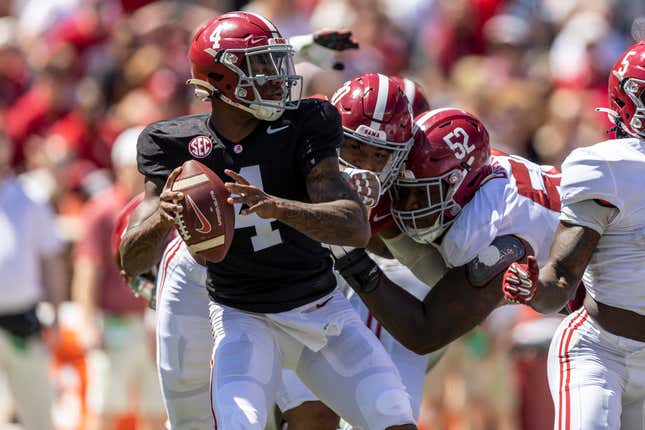 AP's college football top 25 poll debuted Monday, and there aren't too many surprises. Texas (11) is overrated as usual, but everything else appears to be above board. The typical formula for misguided hype includes some combination of a new coach, unproven quarterback, prestigious program, schedule-based success, Texas A&M, or weird media bias (see Longhorns, Texas). The top 10 can't be relatively safe, can it?
Top 5 football movies of the past 30 years
Georgia (1), Ohio State (3), Alabama (4), and Penn State (7) all have new starting quarterbacks, and one of them has to be a bust despite the teams' obvious talent advantage. We saw now-Oregon State starter DJ Uiagalelei marginally disrupt Clemson's recent stretch of Playoff appearances, and now-Iowa starter Cade McNamara wasn't good enough in the eyes of Jim Harbaugh, or any Michigan fan with a basic understanding of football.
It's pointless to expect a dropoff at Ohio State, Alabama, and Georgia. Big Ten competition serves as a warmup for the Big Game, the conference championship game, and often the Playoff for the Buckeyes. Kirby Smart and Nick Saban have their monopolies running like Jeff Bezos. I guess that leaves Penn State if they weren't set for another 11-2 campaign, with two faceplants against Ohio State and Michigan.
However, last season at this time, UGA, Bama, OSU, and Penn State all had incumbents under center. All four of those schools have yet to name a starter, and the fact that none of the highly touted recruits or transfers have separated themselves a little under three weeks away from Week 1 says a lot.
My guess is the coaches know who they're going with; they just haven't announced it. At the same time, none of the battles features a guy who was prophesied.
Jalen Milroe, who played well when he filled in for the injured Bryce Young last year, is the leader for the Tuscaloosa job. Kyle McCord and Devin Brown are neck and neck in Columbus. In Athens, where the Dawgs are looking for a three-peat, there's a three-way battle between Carson Beck, Brock Vandagriff, and Gunner Stockton. And sophomore Drew Allar appears to be the guy in Happy Valley, but again, he probably won't be seriously tested more than three times all year.
Ohio State, Georgia the most indecisive
The Ohio State and Georgia situations are the most interesting to me. Seemingly every QB that Ryan Day coaches ends up on the Heisman watch list, if not in New York for the ceremony itself, and Buckeye supporters expect excellence. The slightest dropoff will be noticeable, but will it matter? Maybe not most weeks. Those other games though, that'll be fun.
This year is the return match of OSU's home-and-home with Notre Dame in South Bend. The game also is Week 4, as opposed to the season opener, so I'm hoping for better football overall, and definitely enough to test whoever is taking the snaps.
For the Dawgs, it's the usual lineup of guys with forgettable names who will put up good-to-great numbers. Stetson Bennett, more so than anything else, reminded me of the prototypical Crimson Tide quarterback before the Tide emphasized offense.
Beck, Vandagriff, and Stockton sound like a contemporary McElroy, McCarron, and Coker. Georgia has first-round NFL talent, including all-world tight end Brock Bowers, and a schedule without Alabama or LSU. As it stands, the defending champs won't play a ranked team until hosting Ole Miss on Nov. 11.
That could change, and it's wise to stay focused in the SEC, but even last year, the best time to catch Georgia was when they were half-engaged. The candidates for a trap game would be South Carolina, and at Auburn; maybe the annual Cocktail Party in Jacksonville against Florida. Honestly, this would be a more entertaining year to open with the Ducks, rather than UT-Martin, but I digress.
It would be irresponsible to say Georgia, Alabama, and Ohio State are more vulnerable than normal — and too easy to say that about Penn State. On the other hand, these are young-ass kids taking their first snaps as the de facto starter, and success can never be assumed.