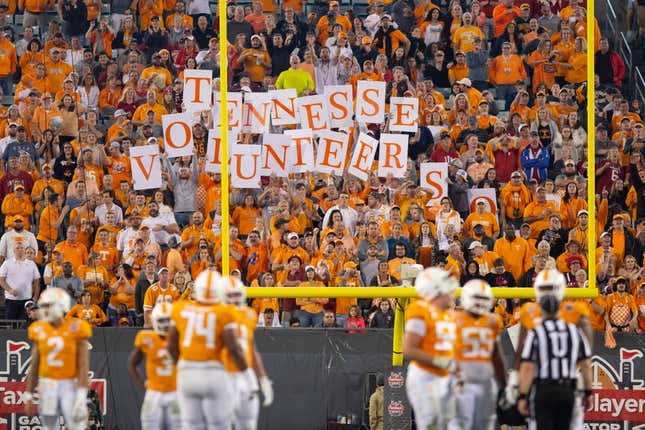 The kids might not realize it, but in 1997 the movie of the summer was Men In Black. In the '90s, Will Smith was the king of summer blockbusters, especially if they opened July 4th weekend — or included aliens. One of the best parts of the MiB franchise was the Neuralyzers, a device that was used to erase the memories of civilians who saw/had interactions with aliens. Former NCAA Commissioner Mark Emmert and current NCAA Commissioner Charlie Baker must think they're Agent K & Agent J. It's the only explanation for thinking that punishing teams by vacating wins will magically make people forget what they saw.

Was the punishment of Tennessee Volunteers football harsh enough? | Agree to Disagree
Tennessee football was recently hit with NCAA penalties from when former head coach Jeremy Pruitt was running things in Knoxville — they were hit with a $8 million fine as over 200 infractions were committed. But, the 11 vacated wins from the 2019 and 2020 seasons are the real story here, as the NCAA once again expects this overused punishment to zap games that we saw played from our memories.
"The vacating of wins does not mean the opponents in those games are granted wins. Tennessee's all-time record now stands at 856-410-53, which drops the Vols out of the top 10 nationally in wins," reads the report from ESPN.
This is so dumb. It's even worse than how stats from the play-in tournament in the NBA exist in their own universe, as they aren't applied to a player's regular season or postseason numbers.
There has to be a better way than this
For instance, earlier this year LSU football had to vacate all wins from the 2012-2015 seasons — making former head coach Les Miles ineligible for the College Football Hall of Fame. Thirty-seven wins just magically vanished, yet the losses are still on their opponent's records. The Tigers former offensive lineman, Vadal Alexander, was ineligible for his entire college career But, while that's cheating, taking 37 wins away by editing a spreadsheet doesn't seem the best way to address this. According to Yahoo Sports, Miles' record as a head coach used to be 145-73 (.665), but it now "officially" stands at 108-73 (.597).
A similar thing happened to Jim Boeheim up in Syracuse, as he too had wins stripped from his record. In 2016 we learned that Orange's men's basketball program had to vacate a total of 101 wins from across five different seasons. According to Boeheim, the punishment was due to" impermissible work done by members of the academic support staff and director of basketball operation Stan Kisse."
"Most of them were about tutoring," Boeheim said. "Most but not all. One was a speech for $300 where the money was repaid but not re-instated," Boeheim explained on an old episode of The Doug Gottlieb Show.
"We've accepted the punishment. I've accepted the punishment. I'm responsible. I've said that many, many times. I don't really want to say it anymore. I've said it enough, but it's true. I didn't want to put the players' names in the record books. ... I feel bad that some player is going to get a call saying, 'What did you do?' It's fine to identify me. It's fine to identify the program. We messed up in the eyes of the NCAA. We have to face the punishment we have to face. But I'd have rather not name the players involved in the individual losses."
And then there was Reggie Bush and USC.
"U.S.C. will also be forced to vacate all victories in which the Heisman Trophy winner Reggie Bush participated beginning in December 2004 including the Orange Bowl victory that produced the Trojans' Bowl Championship Series title in January 2005 and will be docked 10 scholarships in each of the next three seasons," read a 2010 report from The New York Times.
One of the greatest dynasties in college football history had to say they didn't win games that we say them dominate, and one of the greatest players the sport has ever seen had to give back his Heisman Trophy, despite it not being passed down to the runner-up, Vince Young.
Sidebar: I think Young should have won the Heisman over Bush in 2005, and that Bush should have split it with Adrian Peterson in 2004. But, due to politics and the old way of doing things, I didn't get my wish.
Outside of annually exploiting unpaid teenagers for billions of dollars of revenue, as a non-profit, part of the NCAA's job is to police college athletics. With that comes handing down penalties for players and coaches who break the rules. However, like the actual police and our criminal justice system, most times the punishment doesn't fit the crime. Fines, suspensions, postseason bans, and the loss of scholarships are all good ways to crack down on a program. But, taking away games that fans saw happened makes no sense unless you have a Neuralyzer.