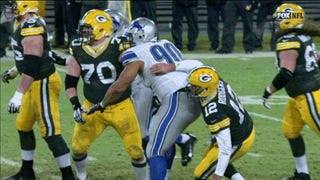 Ndamukong Suh has been suspended for one game for stepping on Aaron Rodgers's injured leg. Suh will miss the Lions' Sunday playoff game at Dallas.
Suh claimed that the contact was inadvertent. The league didn't buy that. In a letter to Suh, the NFL's VP of football operations Merton Hanks wrote,
"You did not respond in the manner of someone who had lost his balance and accidentally contacted another player who was lying on the ground. This illegal contact,specifically the second step and push off with your left foot, clearly could have been avoided."
Suh has the option of appealing the suspension. Here's the NFL's release: