You don't touch the Cup. You don't plan the parade route. Conventional wisdom that simply hasn't worked for 46 years, so maybe it's worth tempting the jinx to try something wholly new and inconceivable in Toronto: a little optimism.
Jokic? Embiid? The NBA MVP is obvious... right? | Keep it a Buck(et)
Last month, Tim Leiweke took over as president and CEO of Maple Leaf Sports and & Entertainment. He comes from the Anschutz Group, where, in his 13 years, helped to oversee four Lakers titles, a Kings Cup, and four Galaxy championships. It's not going to be that easy anymore. "If the teams were doing well, I wouldn't have come," he said.
But in his first interview since stepping in, with Bloomberg, Leiweke said he's told MLSE employees that a Stanley Cup should be the Leafs' only focus. He's already mapped out the parade route.
"I have it planned out and it's going to be fantastic," Leiweke said yesterday. "If you can all dream about that and get that in your mind, we'll have something we're all driven toward."
G/O Media may get a commission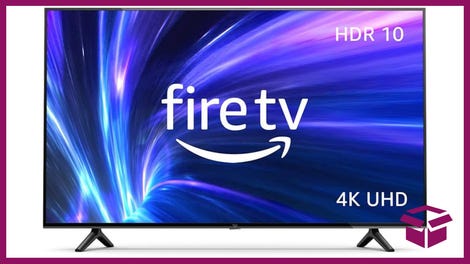 42% Off
Amazon Fire TV 50" 4K Smart TV
The following statement should be treated as an indictment of Toronto sports, and not taken as an endorsement of the Leafs' quality or chances: the Leafs are probably closer to a championship than any other Toronto team. While hockey is the biggest feather in MLSE's cap, Leiweke also now controls the woeful Raptors and Toronto FC.
On the Raptors: "I'm not even sure we deserve Toronto...We may ultimately have to, excuse my English, suck to be good."
On Toronto FC: "We had the best brand in Major League Soccer. We've done a lot of damage to the brand."
But the Leafs are all any Torontonian wants to talk about, and Leiweke is happy to oblige. He loves GM Dave Nonis, calling him a key piece of a championship team. He wants the Leafs to be a global brand, mentioned in the same breath as Manchester United and the Yankees. He wants to tear down photos of the Leafs' glory days from the Air Canada Centre, and tell players to create their own legacy.
Except, that legacy in recent years is one of losing. And Leiweke believes that's just as important. He calls the heartbreaking loss to the Bruins "the best thing that could have happened to them."
"I think they need a few ass-kickings, and that's one that will stay with them for a long time," he said of the players. "I think it will pay huge dividends in the long term no matter how painful it was."
Ex-Anschutz Boss Leiweke Maps Maple Leafs' Victory Parade Route [Bloomberg]