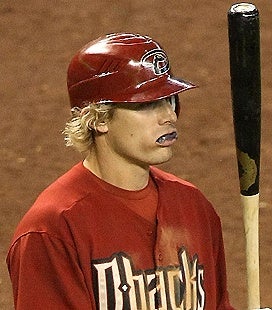 Look closely the next time Eric Byrnes steps in the batter's box. Focus in on his face, examine his mouth. Do you see it? Um no, I refuse to do this. Next question?
All hail the Purple Power mouth guard, developed by a dentist in Nova Scotia and embraced by Byrnes, Dustin Pedroia, Manny Ramirez and Ryan Howard, among others. Byrnes, in the Arizona Republic:
"I originally started wearing it because our trainers thought it could possibly help my hamstring," the Diamondbacks outfielder said.
Get this man a chart of the human body, stat.
But Mad Scientist Anil Makkar, inventor of the device, swears it's true:
"The jaw joint is actually the focus of power in the body because that is the most used joint in the whole body," Makkar said. "So what we're basically doing is trying to find the most comfortable position of that lower jaw. ... It relaxes all the muscles in the face and allows you (to) use more of your upper and lower body strength."
And just listen to this testimonial by the Diamondbacks' Mark Reynolds:
"It's supposed to line your jaw up and help you breathe and a bunch of shit," the third baseman said.

You going to try it out?

"No."
I think we all know that this will never really catch on until Alyssa Milano starts using one.
Byrnes On Growing List Using Mouthguards [Arizona Republic]