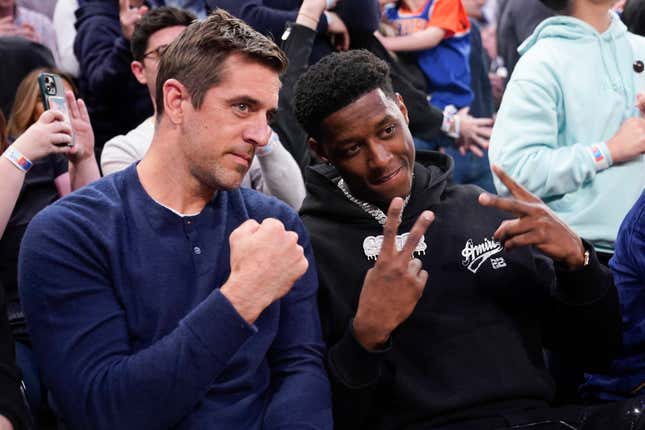 There are a vast amount of "celebrities" that come and go through the G/O Media offices in New York to shoot videos with our sites. Some are instantly recognizable — like Danny DeVito or Rainn Wilson — while others leave me scratching my head, not knowing who they are or why they're famous. A Google search — or a look at IMDB — might be necessary to figure out who some of these folks are. Sorry, I didn't catch the sixth season of Real Housewives of Sheboygan.
Scott Caan reflects on dad James Caan's iconic roles
While I can't recognize reality show "stars," New York Jets corner and Defensive Rookie of the Year Sauce Gardner — taking in Game 2 of the New York Knicks-Miami Heat series with new teammate Aaron "Ayahuasca" Rodgers — wasn't sure who the famous actress seated near him was.
'We're about to sit by Jessica Alba,' and I'm just like 'Oh, I don't know who that is,'" Gardner told reporters. "And he [Rodgers] just looked at me, he looked at me like I'm crazy."

Rodgers rightly razzed the 22-year-old Sauce.

"It was great vibes, but that whole night he would just keep asking me out of nowhere, like 'do you know who that person is?" Gardner said. "I'm like 'bro, that's Amar'e Stoudemire, I know who that is. Now you're just picking on me.'"
What was Gardner's excuse for his unawareness?
Alba, 42, took it in stride.
While I'm shocked that the DROY couldn't recognize her, I guess I shouldn't be, as Gen Z only found out about Metallica from Stranger Things.