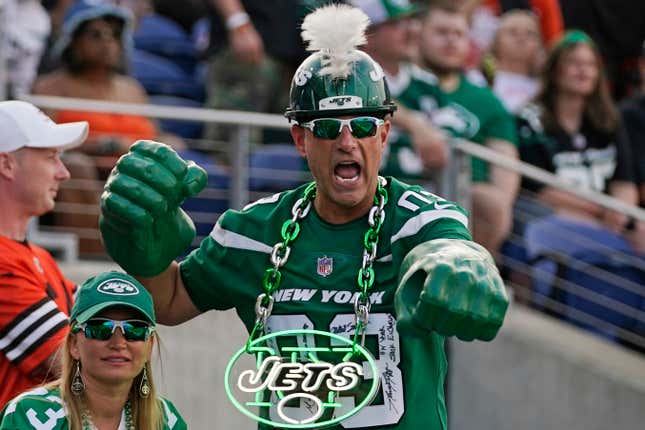 If you are or have ever been a New York Jets fan, this is the year to double, triple, and quadruple down on the team. If you quit the franchise like Fireman Ed, this is the year for a reunion. This year, more than any since Broadway Joe, is the year to root for gangrene.
Which NFL team had the most improbable Super Bowl win?
Get fucking hyped. Let your imagination run as wild as possible. AFC title game? Super Bowl? A ticker tape parade down the Canyon on Heroes? It's at least imaginable, and if you will it, dude, it is no dream. This may sound condescending, and that's because it is, but I'm still being 100 percent serious. The Jets by any other city are the Browns, and who knows if they'll ever employ a Hall of Fame quarterback this close to his MVP form again. Why do you think Cleveland fans are pissed that the media isn't letting them just enjoy this?
And that's how I feel about Jets fans. What's the harm in letting them have this? Everybody deserves to ride the roller coaster, and it's finally their turn. The team wasn't terrible last year, at least by Jets standards, and now they have Dalvin Cook. Breece Hall is back less than 10 months after tearing his ACL, and despite the best interest of his career, even he's showing urgency.
Aaron Rodgers has a No. 1 target in Garrett Wilson, as well as Randall Cobb and Allen Lazard. Don't worry about the offensive line. That's Robert Saleh's job, and he's working on it. Per Hard Knocks, he knows that the "big boys up front change who the fuck we are."
Is it possible that HBO's well-crafted montages are the best the Jets look all season? Maybe… maybe go fuck yourself. This is their year. It might not be as it relates to hoisting the Lombardi Trophy, yet that's irrelevant.
Mike Greenberg hasn't been this happy since he offloaded Golic, and there will be no shortage of Jets coverage. The NFL and its media partners are doing everything short of selling backstage passes, and the access is going to be more intimate than four nights (or was it two?) in a darkness retreat with A-Rodg.
I know if I had the misfortune of calling the Jets my team, I'd be irrationally excited for the season to kick off. Bring in magicians, light shows, dancers, celebrities, whatever is left of Namath, and dial it up to 11.
"IT'S UP TO YOU, NEW YORK, NEW YOOOORRRRRKKKKKKK!"
What do the Giants have? Danny Dimes and a caricature of a football coach? Mac Jones is trash, Buffalo might as well be in Canada, and Miami's quarterback is a hit away from retirement.
"J-E-T-S! JETS! JETS! JETS!"
The defense was mean last season, and Sauce Gardner is going to get to play with a lead this year. Bye, Zach Wilson. See ya, Mike White. Hey, Joe Flacco, eat shit. There's a four-time league MVP in town, and he's rejuvenated, reborn, and ready to light up the AFC.
"AAR-ON ROD-GERS!" DU-DU-d-d-DU "AAR-ON RODGERS!"
You know how quickly the MVP chants are going to rain down Metlife Stadium? If not Week 1, then definitely by Week 4. In their first eight games of the season — Buffalo, at Dallas, New England, Kansas City, at Denver, Philly, at Giants, Chargers — the Jets have a chance to beat six playoffs teams, Bill Belichick, Sean Payton, Josh Allen, and last season's Super Bowl winner, and runner up.
It's not about the journey, it's about the destination, and that destination, my Jets friends, is Las Vegas for Super Bowl LVIII. There's no way this ends in misery, tears, and a foot fetish. God is with you. Jesus is with you. The holy spirit, Buddha, Allah, Aaron Rodgers, and his bag of mood crystals are with you.
JETS FOOTBALL, BABY! (This is borderline irresponsible gaslighting but) LET'S FUCKING GO!