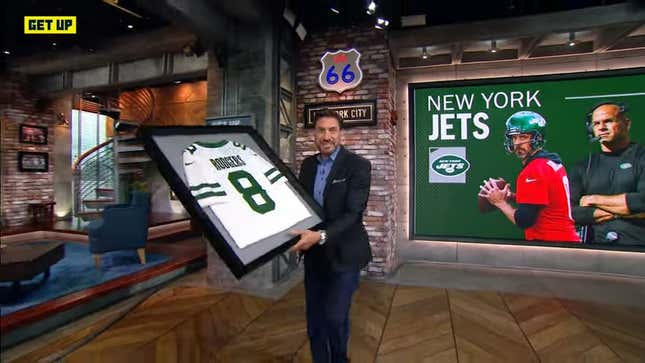 Mike Greenberg has been a staple of ESPN for nearly three decades. He's famously known as one half of the Mike & Mike morning radio show, which aired on ESPN networks from 2000-17. Greeny, as he's affectionately known by many, has never been the rah-rah, flashy, over-the-top type of personality like Stephen A. Smith or Skip Bayless. Greenberg is your prototypical sports anchor who occasionally throws in a corny line or two to get his point across. Despite his successful run at ESPN, which spans over 25 years, not everyone enjoys Greeny's schtick. Boston sports radio host Fred Toucher is one of those people.
"He's dropping the facade when he's talking, this isn't friendly Greenberg, this is business, Greenberg. Listen to this no-talent prick," Toucher said. "This guy who is making all this money, listen to his advice: 'If you're not writing out your teases, you're not hosting a show.' He's like, 'You could be the funniest guy, the most interesting guy. You could know the most about sports. But it doesn't mean anything if you're not holding people over the breaks.'"
The Miami Heat are one of the great underdog stories in NBA history | Keep it a Buck(et)
This bit of advice from Greenberg to young broadcasters set Toucher off on an epic rant. It's not bad advice by any means, but it's not the entire package which is what Toucher attempted to get across in his own way. Toucher made his point by exhibiting his passion in this fiery rant aimed at Greenberg.
"I said, 'That is tremendous advice. If you're the most interesting, funny person in the world, really it all comes down to your teases.' What a hacky, dumb thing to say. Talk about a guy justifying his career. That's your career, that you've written out teases for what's coming up next?" Toucher said.
It's not as simple as Greeny makes it seem with his advice. Calling him a prick may have gone a touch far, but Toucher got his point across. There is more to it than setting up great teases and keeping listers/viewers for the next segment. Although carrying people over into each quarter hour is extremely important, there's more to the formula, and that's what Toucher is getting at. He went to extremes to express that, but he's got a point. You've got to have some talent and skill, but there's a lot of luck involved and politics, especially at the level Greenberg has been at for over two decades. We could be looking at the next big rivalry in sports media.