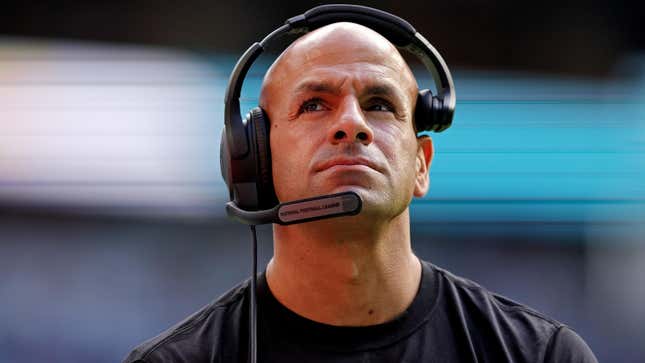 I think New York Jets head coach Robert Saleh is taking that first line from one of the signature tunes of West Side Story too seriously. You know the one — "When you're a Jet, you're a Jet all the way! From your first cigarette to your last dyin' day!" With the team's flirtation and outright "You up?" texts to Aaron Rodgers to bring him to East Rutherford, New Jersey from Green Bay, the Jets head coach is familiarizing himself with all things weird. Because that's what the 39-year-old quarterback is into these days. And we have evidence of that from a Monday news conference where Saleh said he's "intrigued" by the idea of doing a darkness retreat. So, who's running the team while you're in isolation?
Will Aaron Rodgers stay in Green Bay or is he New York bound?
Rodgers' personal quirks have come out over the last year or so, which happens to coincide with his worst professional season in well over a decade. Darkness retreats and ayahuasca have become closely associated with the soon-to-be former Packers' leader. And I guess if it's good enough for your quarterback, why not try it yourself? Rodgers credited the time away from society as why he wanted to be at the doorstep of the most populous urban center in America. What interesting thoughts would Saleh come up with as he only gets lost in his own mind? Saleh does have seven kids, so spending time away from them sounds right to truly come into one's self. Sorry you missed those doctor's appointments, kids. Your dad was trying to emulate the actions of a quarterback on the downslide of his career.
Months ago, Saleh was at the center of a prophecy by, hopefully, soon-to-be-indicted former President Donald Trump, where the orange Teletubby said he's better than Vince Lombardi. This conversation allegedly took place after New York's Week 2 victory over the Browns. At the time Saleh had five wins to his name as an NFL head coach. Lombardi has led teams to five NFL Championships. "Coach, you're greater than Vince Lombardi because Vince Lombardi never did that. He was never able to pull out a game like that," Trump supposedly, and in all likelihood made up, all while flailing his arms like he was playing an invisible accordion.
Here's Saleh's chance to prove Trump right! The Jets actually have enough pieces in one of the toughest divisions in football to make the playoffs this season. All New York truly needs to compete is a solid quarterback, and the jury's out whether that'll be Rodgers, and a good offensive line to protect the soon-to-be-40-year-old purveyor of darkness retreats. And the guy at the helm wants to experience that isolation too. What could go wrong?