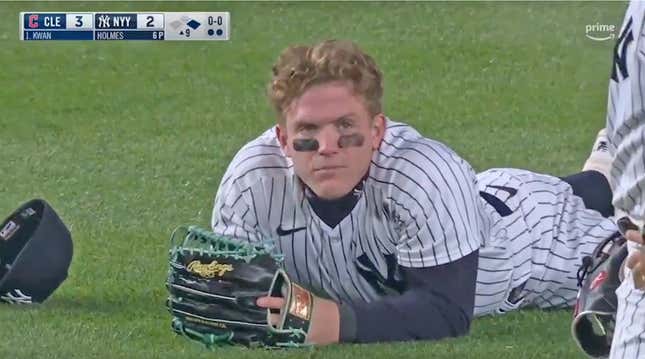 It hurts to watch the New York Yankees right now. And if you play for the Bronx Bombers, chances are, you're also hurt. (If you're healthy, don some bubble wrap or some shit so you don't end up breaking or pulling something.) The Yanks — decimated by injuries — are 17-15 and sitting in last place in the American League East.
Does Joe Maddon agree with Dusty Baker's choice to pull Cristian Javier after the 6th in Game 4?
$360 million man Aaron Judge injured his hip on his 31st birthday. In a surprise to absolutely no one, Giancarlo Stanton's hamstring sent him to the IL. Also on the injured list: Josh Donaldson, big free agent acquisition Carlos Rodon, Luis Severino, Frankie Montas, Jonathan Loáisiga, Lou Trivino, and Tommy Kahnle. That's seven of the 12 total.
Harrison Bader was just activated on Tuesday — and he's hurt again, along with Oswald Peraza, after they collided during the ninth inning of New York's 4-3 win over the Cleveland Guardians.
"I think Harrison's going to be fine,'' manager Aaron Boone said after the game. "He was in really good spirits and laughing in the training room.''
Aaron Hicks needs to go
Without Judge and Stanton, Boone has had to run out another Aaron — Hicks — who can't seem to hit or field worth a shit anymore. On the young season, he's batting .146 with ZERO home runs, one RBI, and a .357 OPS. And he plays like absolute dogshit in the outfield.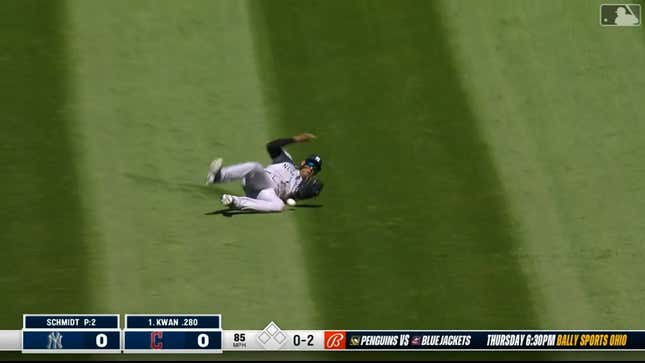 Offensively, the Yankees are 23rd in runs scored (126), 25th in hits (235), 24th in RBI (119), 26th in team batting average (.228), and 28th in on-base percentage (.297). That's bound to happen when you are giving guys like Willie Calhoun, Franchy Cordero, IKF, and Kyle Higashioka regular at-bats.
And the youngsters aren't producing much either. Peraza is batting .188 and Oswaldo Cabrera is batting .196. After a slow start, New Jersey native Anthony Volpe at least seems to be turning things around.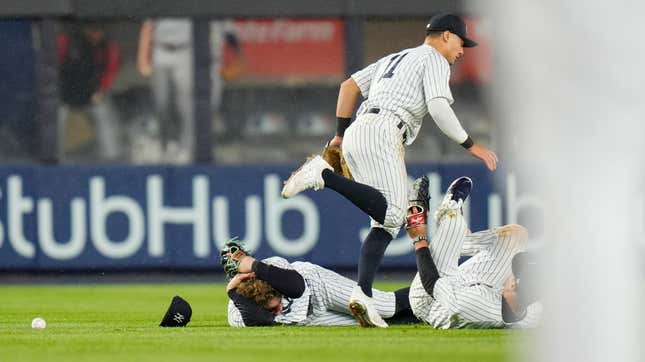 Blame Brian Cashman
Brian Cashman is blaming this horrendous start on injuries — and himself. And he should take accountability. Sure he spent big to keep Judge in pinstripes, but he went and acquired liabilities like Montas, who said he was injured at the time of the trade.
It may be too early to panic, but the Yankees are already 8.5 games out of first. That hole can get deeper if the injuries continue to mount. The Rays continue to dominate. The Orioles are much improved. And Toronto already took two of three from the Bronx Bombers this season, and could possibly win the season series. And if the club gets healthy and goes on a tear, they still can't get past Houston come playoff time.
As Deadspin's resident Yankee fan — yes, fuck you, too! — of course, I'm all about a "World Series or bust" attitude. But this team isn't going to win a ring. Not with this GM or manager. But don't just take it from me.
"All the money in the world can't save the Yankees from the injury bug. The pitching rotation is gutted, their two best power hitters are getting comfy on the IL, and to make matters worse, Bader finally returns only to leave last night's game following a 9th-inning collision," said Jeb Biggart, a social media editor, and Yankee fan who was at last night's game. "The Yanks are cursed with injury-prone stars, but that's where depth has to make up the difference. Unfortunately, Cashman and Boone have built such a top-heavy lineup, that they're destined for mediocrity when the injury bug comes to claim lives. A tale as old as time. Same shit, just a different year."