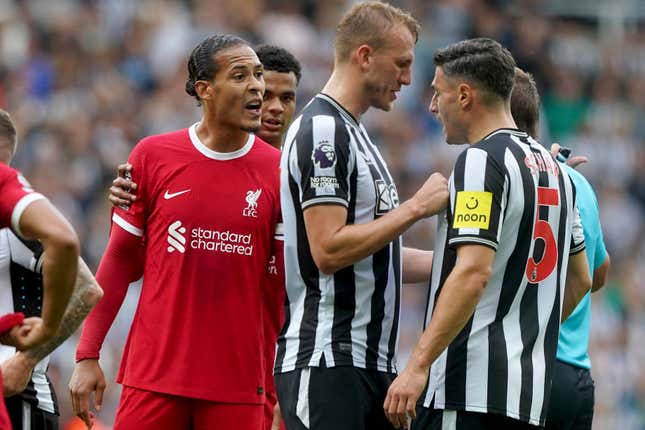 What Newcastle's "problems" are depend on what their own expectations are. While they've certainly cemented themselves as one of the land's biggest clubs, they've rarely, if ever, been touted as potential title challengers this season. Certainly none of that noise is coming from within. It appears the goals of this season are just to cement another top four place and make a medium amount of noise in the Champions League. Which means their struggles to be a "big team" could be just labeled as part of the learning curve to becoming a European pillar, which given the amount of blood money they have at their disposal, seems more likely than not.
Is Texas or Florida State a bigger national title contender? | Agree to Disagree
But falling victim to Liverpool's "Chaos Himbo" Darwin Nunez after playing more than an hour with an extra man, and most of that with a goal lead exposed a pretty befuddling statistic that Newcastle added to on Sunday. They have only won two of their last seven games when they have more than 60 percent of possession. And as more and more teams view them as a roving monster, this is something they'll have to figure out.
Newcastle will say they were extremely unlucky yesterday, and they wouldn't be wrong. Miguel Almiron hit the post and Alisson had yet another cartoonish blinder in net, especially to deny Almiron right after Virgil van Dijk was sent off. But watching Newcastle, their one mode of attack is to attack space in behind. Their front line is full of players that just want to get in behind, and their midfield three of Joelinton, Bruno Guimarâes, and Sandro Tonali are more "create ruckus" types by forcing turnovers, running with the ball, and springing things quickly into that space behind defenses when they do succeed in ruckus. They don't really pick locks.
Newcastle certainly created enough chances to win, but almost all of them were through Almiron's and Anthony Gordon's dribbling through guys, which is much easier to do against Liverpool than most. Their fullbacks are a mess. Trent Alexander-Arnold appears to have had his left and right foot switch sides in his sleep over the summer, and Andrew Robertson seems lost in being asked to be a part-time centerback, part-time fullback, part-time winger, part-time everything in between in this new system that clearly isn't working. Gordon and Almiron won't find it as easy with teams sat even deeper than Liverpool were with 10 men.
How big of a problem this will be is still to be determined. More teams will let Newcastle have the ball and try to hit them on the counter, given their finish last season. Maybe with more practice they'll figure it out. Looking at their contemporaries, they don't have equivalent players in midfield that they have to deal with this exact thing. City have Foden or Kovacic or Rodri even when De Bruyne is hurt. Arsenal have Martin Odegaard and (in theory, we'll get to that) and Kai Havertz. United have Bruno Fernandes and Christian Eriksen. Liverpool remade their midfield to have Alexis Mac Allister and Dominic Szloboszlai. Even Spurs have James Maddison now who has had maybe the best start of anyone in the league. That bill might not come due this year, but when Newcastle want to start collecting trophies, it probably will.
What are the other things we gleaned from Matchday 3?
4. Arsenal fans might already have knives out for Kai Havertz
Certainly no transfer from Chelsea ever gets the total red carpet rolled out for them, especially at other London clubs. So Havertz certainly had a more than a hill to climb in winning over the support. He's also adjusting to a new position, after being levered all over the attacking portion of the field at Chelsea. At least Arsenal are pretty clear on what they want from him.
And Havertz wasn't bad against Fulham in Arsenal's kind of boneheaded 2-2 draw (they gave up another goal in the first minute at home and then conceded the tying goal from a corner with Fulham down to 10 men, And had Adama Traore just fallen down late under a challenge instead of mistakenly thinking he had any chance of finishing off his break, they may have lost). Havertz created a couple chances, completed 91 percent of his passes, though he did fluff a golden opportunity to score, which is just kind of his thing.
But it was poignant that in just the 20th minute or so, in only his second home game, he lost the ball and the groan from the Emirates faithful was shockingly palpable. Yes, Arsenal were down 1-0 at the time but it seemed a total overreaction.
It felt like Arsenal fans have already prepared to label Havertz a bust, which is easy to do because he's an extremely weird player. Immensely talented, but without a position. He's not a winger, he's not a striker, we don't know if he's a #8 yet, and he probably should be playing as a No. 10, but Arsenal don't use one. But he certainly should be given more than a couple weeks to find his feet in midfield, especially as he's trying to dovetail with Odegaard who does a lot of the same things on the other side.
3. Aston Villa can play some really sexy stuff
Ever want to see a goal that is an entire buffet unto itself?
Moussa Diaby and Boubacar Kamara both bamboozle two defenders with 360 spins. Diaby and Ollie Watkins both drop deep to receive a line-breaking pass from the Villa defense, and then there's some brilliant interchanges and one-touch passing and finishing.
This is Villa now?
Unai Emery is clearly a great coach, despite whatever happened at Arsenal, and his latest trick was to push Matty Cash into an advanced midfield role, one of the second "2" in the 4-2-2-2 that Villa use with the ball, opposite John McGinn (who has become one of the league's best attacking midfielders in the league under Emery). Cash scored the first two goals.
Diaby has already settled into the league and to Villa, buzzing all around Watkins as a second striker and being impossible for defenses to find before he gets the ball and kickstarts attacks. Burnley and Everton may have been soft touches, but Villa did to them what good teams do, i.e. blast them through the drywall.
2. West Ham have gone full West Ham
I can't with this Jarrod Bowen touch:
It was Moyes-ball to the hilt, where West Ham had 22 percent of the possession, barely completed two consecutive passes all match, and won 3-0. This didn't work a lot last year, at least in the league, thanks to what looked like the ravages of time and duty getting hold of MIchail Antonio's legs. Well, about that:
It's a tad annoying that West Ham appear rebuilt by using some of their Declan Rice money on Edson Alvarez, proving that Mexico do in fact have at least one really good player. He's been their pivot point in midfield, with James Ward-Prowse fitting in perfectly alongside him. They're the two to replace the one of Rice, and it's working so far.
1. The eternal struggle of Roy Hodgson against his jacket
The week of the goalkeeper
It was a great week for the guys trying to stop goals.
I thought this Jose Sa save would be the pick of the bunch on Saturday morning:
That lasted a couple hours until Alphonse Areola took the stage for West Ham:
And then Alisson keeping Liverpool in touch against Newcastle:
This would be what hockey fans call standing on your head.