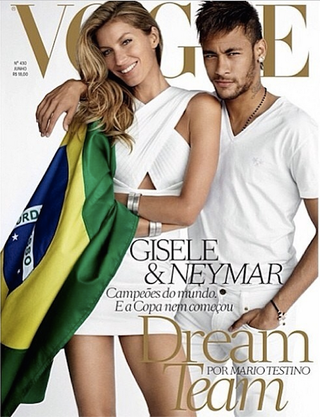 Looks like these Mario Testino World Cup-inspired Vogue covers are officially a thing. Earlier, we got an eyeful of what Cristiano Ronaldo and Irina Shayk look like sharing a size-zero cocktail dress between the two. Who would've thought the Brazilian version featuring Neymar and Gisele Bundchen would be the more chaste?
Judging from what's out there on Gisele's Instagram, here's as risqué as Neymar was willing to get:
Alongside the 22-year-old's modesty and uncomfortableness with his budding sex symbol status, it's a safe bet Neymar couldn't look Thiago Silva in the eyes should he've gone full Ronaldo. If they need advice for the American spread, you couldn't go wrong with Kyle Beckerman and the girls of Haim.
Photos via Instagram