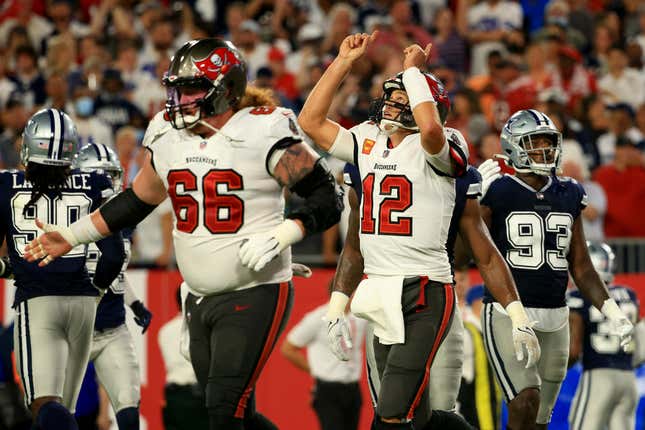 The Dallas Cowboys ended the 2022 regular season the same way it began — with a loss. After dropping their Week 18 matchup to the Washington Commanders, the Cowboys get a rematch with the team who gave them a Week 1 thrashing — the Tampa Bay Buccaneers led by Tom Brady aka Father Time. The 45-year-old future Hall of Famer is undefeated — 7-0 — against the Cowboys in his career.

Mean Joe and Tommy GOAT | Michael Evans Behling's Ultimate Sports Fantasy
Talk about bad luck and drawing the worst possible opponent. It's not about the Bucs but Brady's ability to pick up his team and lead them. For whatever reason, he's had the Cowboys' number over the years. And Dallas enters the postseason not having played their best football last week in that 26-6 loss to Washington.
Dallas' star QB Dak Prescott had a stinker of a game Sunday, completing less than 38 percent of his passes, 128 yards through the air, and a pick-six. That interception by Prescott tied him for the league lead with 15 this year — and he missed five games. Although the Cowboys come in with a much better record (12-5) than the Bucs (8-9), if Prescott and the offense don't bring their A-game, it will be another early exit from the postseason. 1-2-3 Cancun!
Despite the Cowboys winning 12 games for the second year in a row, Prescott has been up and down most of the year. He was sidelined with a thumb injury for weeks two through six and has been hit or miss since returning. Prescott threw at least one INT in each of Dallas' last seven regular season games. In four of those games, he had multiple passes taken away by the opposing defense. Dak was even outplayed by Washington rookie Sam Howell who bested him in completion percentage, passing yards, QBR, and passer rating. This was Howell's first start and first NFL regular season action in general.
All that swagger and energy the Cowboys had early in the season seems to be only a memory. Indeed, Brady is looking forward to helping Dallas remember how he's picked their defenses apart over the years. Seven wins and no losses is a big enough sample size to say Brady owns the Cowboys. This game being in Tampa Bay is another hurdle Dallas must overcome as they played .500 (4-4) ball on the road this year.
Tampa Bay hasn't been great by any means, but it's hard to count out Brady when it's all on the line, especially against the Cowboys. As a Buccaneer, Brady is 2-0 against Big D, winning one game in each stadium and passing for nearly 600 yards and five touchdowns. Another performance similar to the Week 1 meeting or the Washington game last week, and Jerry Jones could be looking to make some drastic changes.
Consecutive wildcard losses after winning 12 games shouldn't be tolerated. There's already talk about head coach Mike McCarthy's job being on the line if the team loses in the first round. Last year they fell to the San Francisco 49ers in the wildcard round at home, 23-17. With Sean Payton and Jim Harbaugh's looming availability, another playoff loss for McCarthy in Dallas could spell the end.