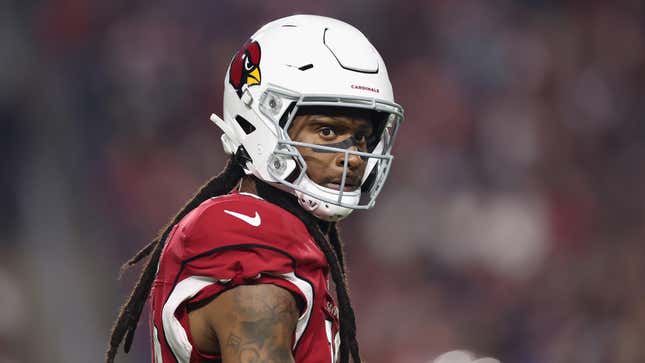 Unlike Davante Adams, DeAndre Hopkins has had enough. Following a tumultuous year on the Arizona Cardinals that he'd probably prefer to expunge from his record, Hopkins wants a fresh start. This offseason, Arizona's All-Pro is expected to demand a trade out of the undetermined level of Hell that has been his Arizona prison for three years, according to Jordan Schultz of theScore. Hopkins is reportedly seeking a new deal, which would garner him more bonus money and extend the two years remaining on his current deal.

Minshew on Aaron Rodgers' level? Really? | Stats That Will Blow Your Mind
Nearly a decade ago, Hopkins was the young hotshot like Ja'Marr Chase or Justin Jefferson. Now he's an anachronism in Arizona. Too old for a retooling, but still talented enough to hover near the top of the positional hierarchy. At this juncture in his career, Hopkins is in need of a reputable franchise quarterback to help throw him open.

For Hopkins, Kyler Murray's torn ACL complicates next season as well. Careening toward his age-31 season, Hopkins feels the need for urgency. He was dumped by one dysfunctional organization in Houston for a made-for-TV Hard Knocks melodrama. That level of grinding is for your 20s.

Aside from a brief run with Deshaun Watson, Hopkins' entire career has been about him making good quarterbacks look great or backup quarterbacks look like starters. Now it's his turn to bond with a throwzini who can simplify his job. After another frustrating year in Vegas, Adams might long for the same thing, but Hopkins has seen enough mediocrity in the last decade.

So where could DeAndre Hopkins wind up?
Hopkins' no-trade clause gives him a unique level of control over where he ends up next. We can reasonably assume, it won't be to coordinate with going wherever Derek Carr lands. With all due respect to Justin Fields, Hopkins just detached from a situation where an offense was designed around a mobile quarterback with questionable passing acumen. Meanwhile, Daniel Jones could turn back into a pumpkin any minute now, so we can safely rule out the Giants or the Bears.

The Ravens, Chiefs, Packers, and Cowboys will all be in line for Hopkins' services. Their credentials speak for themselves. All are viable contenders with MVP-caliber quarterbacks and a need for a WR1. A dark horse contender could be the Jaguars, who are rolling into the postseason with a heady, young quarterback phenom, who also hails from Clemson and is just beginning to process his reads quickly and evolving beyond NFL defenses..

Baltimore still has to pay their quarterback, but they have the money to do both. Aaron Rodgers developed a rapport with the young wideouts in Green Bay, but Hopkins is a quantum leap forward, whereas his receivers have years of development ahead of them. Hopkins' crisp route running would be a welcome sight in Dallas where receivers have struggled to make those high-degree-of-difficulty tight window throws Dak Prescott has attempted all season.

Hopkins' elite route running prowess has never been reliant on speed and agility, which allows him to age well. Hopkins was one of the slowest wideouts in his draft class, but so was Larry Fitzgerald, who remained in the desert a decade too long.

Slick footwork and mid-air contortions to high-point balls over corners are what he's cornered the market on since 2013. The best move he can make right now is to create some separation between himself and the growing mess brewing in Glendale.