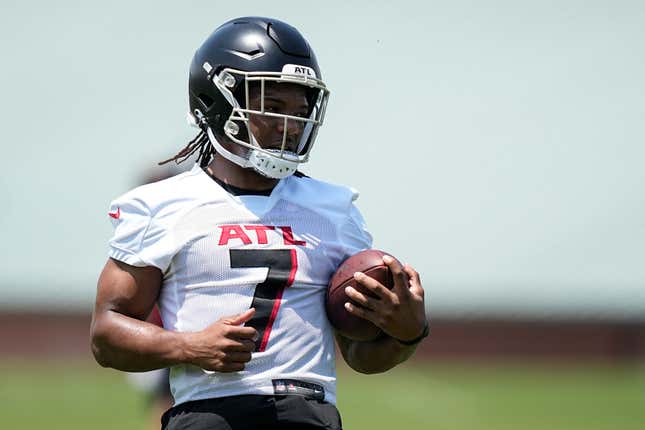 Arthur Smith migrated to the Falcons after laying down the railroad tracks for the Tennessee Titans' 2020 AFC Championship berth. One would hope he isn't trying to put his spin on the Derrick Henry cloud of dust offense he conducted for two years, but with Bijan Robinson. An essential part of building a great team is identifying and exploiting market inefficiencies. First-round running backs have become universally known as a colossal waste of resources.
What is the future of the NFL running back? | Agree to Disagree
The Atlanta Falcons had the right idea during their 2022 campaign when Marcus Mariota led an air attack that was the equivalent of a Dirty Bird getting caught in the engine. Smith devised the NFL's third-most prolific rushing attack with a rookie fifth-round rookie running back and a converted wide receiver entering his 11th season as a pro. In 2022, Tyler Allgeier rushed for 1,035 yards on a bargain basement deal paying him $1.03 million in salary. According to analyst Brett Kollman, that equates to $964 per rush. By comparison, Christian McCaffrey earned $14,000 per rush by accumulating 1,139 total yards on the ground in year two of a four-year $64 million contract.

However, in the midst of a running back recession, general manager Terry Fontenot invested in Robinson, not just because he runs like Eric Dickerson barefoot on hot coals, but for his Texas receiving production in the form of 60 catches for 804 yards. Much of Robinson's value will come in the passing game, however, under that reasoning Jahmyr Gibbs sounds more like the ideal modern position-less running back than Robinson.

Drafting Robinson at eighth overall when they had many other prevailing needs felt like a backward hustle. Running backs taken in the first record the past decade are a sunken cost and Robinson is the highest one since Saquon Barkley got scooped up second overall in 2018 because of runs like this.
Robinson is now balanced atop the Birds' inverted pyramid of needs. Matt McGuire of Walter Football's Draft Report's NFL positional value table serves as a guiding principle for which positions should be most coveted by front office architects. Even a decade ago when this chart was created, running backs were scraping the value floor. But the Falcons have made it a habit lately of zigging when the league is zagging. The pressure is on to prove it wasn't as foolhardy as it appeared from the outside looking in.

In an NFC South lacking upper-echelon teams, ESPN analytics gave Atlanta a 29 percent chance to win the division. At first glance, the Falcons have essentially constructed a poor man's New York Giants, an inspiring band of overachievers who aren't even a favorite to return to the postseason. Desmond Ridder won't win Atlanta any shootouts, and was largely undistinguished as a rookie. He'll be relied upon to play the Daniel Jones role while Robinson carries the bulk of the offensive workload.

Despite possessing the eighth-largest contract on the rookie wage scale, Robinson is still a relative bargain, but the FOMO cost of Robinson was the prospects they passed on. Most notably that was Jalen Carter, a bull-rushing, blocker defensive tackle rated as the best talent in his class. Current nose tackle Grady Jarrett has been a gut punch to opposing offensive lines, but his prime is behind him while the Falcons have only just begun their ascent.

Every pick is a gamble, but the bet on Robinson lacks notable upside for a team that has so many holes. The leading rusher from the past 14 Super Bowls has made less than $2.5 million and Miles Sanders booked it to Carolina after supporting Jalen Hurts on one of the NFL's best rushing attacks in the last 10 years.

Last year's Eagles became the first team since the 2013 Seattle Seahawks with more rushing attempts than passing attempts, including sacks. The difference between the Eagles and Giants is the caliber of their quarterback and investments on the defensive end. By the end of their 2022 season, the Falcons ranked dead last in defensive sack percentage and outside the top 20 in most metrics on that side of the ball.

Modeling their offense after the Eagles sounds great in theory, but the Falcons started this unorthodox rebuild by passing on Justin Fields in 2021 to take a tight end they phased out and then pursued a costly trade both in assets and reputation-wise for the lecherous Deshaun Watson. Then, they withdrew from the Lamar Jackson sweepstakes. In their pyramid of needs, quarterback is seemingly not a concern.

The Falcons are chasing a gas-guzzling offense in an age of electric flying offenses while their front office is going all in on a G-Wagon. Instead, they spent a top-10 pick on Kyle Pitts and Drake London, then gave them Marcus Mariota, which is as counterproductive as pouring vegetable oil into the empty tank of a Mercedes Benz. I can't profess to see the long-term vision unless the point is to tank for a top quarterback in the stacked 2024 class. It goes without saying that this has to work. However, given how rapidly running backs degrade, the clock is ticking on Robinson and this regime.

---
 Follow DJ Dunson on Twitter: @cerebralsportex