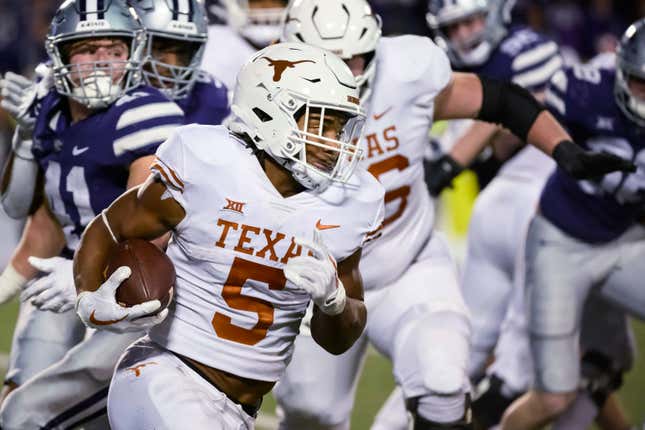 No position in the NFL has more turnover than running back. Most teams have switched to a by-committee approach rather than one superstar. And even the 49ers have suitable backups to Christian McCaffrey. With the NFL Draft two weeks away, former Texas standout Bijan Robinson will be the first tailback off the board. If he makes it to a double-digit pick, it'll be more shocking than a team trading up to take Anthony Richardson or Will Levis ahead of the stout pair of C.J. Stroud and Bryce Young. Robinson is one of the best players in the draft and might be the only running back drafted in the first round.
Mahomes or Hurts? Who will win NFL MVP? | Agree to Disagree
He won't go No. 1 overall; that'll be Young or Stroud after Carolina traded up to get the pick and brought Miles Sanders from Philadelphia to Charlotte this offseason. The Texans have Dameon Pierce, so drafting a running back isn't likely with the second pick. Robinson won't fall much further than that. Looking at the last 10 NFL Drafts, a running back has been drafted in the top 10, or none until No. 24, where Najee Harris was selected in 2021 and Josh Jacobs was taken in 2019. Four times, the first running back of the board was at pick No. 32 or later. In 2014, Bishop Sankey was the first tailback off the board at No. 54. That'll be about 50 picks after Robinson knows which team he'll suit up for this fall.

Teams have been waiting before taking RBs
The last four NFL Drafts have seen the first running back taken slip out of the first round once, that's last year with Breece Hall at No. 36. The highest were the aforementioned No. 24s in Jacobs and Harris. In the four years before that, Todd Gurley was the latest selection among the first running backs off the board at No. 10. Leonard Fournette and Ezekiel Elliott were both drafted at No. 4 in the two years after Gurley. The trend of at least one superstar running back being drafted incredibly early or the entire class falling out of priority spots will no doubt continue with Robinson. At worst, Robinson falls into the arms of the Eagles at No. 10. With the amount of draft capital Philadelphia has, it'd be aggressive and trade up a few slots to get him if no one selects him by No. 7.

And the big question remains, is taking a running back that high in the draft worth it anymore? The NFL drastically changes every year, much less since 2018 when Barkley went No. 2. And the Giants didn't change their trajectory at all until year No. 5 in the league for the former Penn State juggernaut. You can't base NFL production on college statistics, or else Ron Dayne would be the greatest running back in league history instead of never having a season with more than 800 rushing yards. And the simple answer is: Yes. Take Robinson if you have the chance.

After QB, it doesn't hurt to have a quality RB
You can't win a Super Bowl without an elite quarterback. What's the next best thing? One of the best in the game at running back or wide receiver. How many games did Justin Jefferson tilt the Vikings' way last year? At least six — and thank you for all those fantasy points. Take a look at the 49ers last season too. Before trading for McCaffrey, San Francisco was 3-3. Then there was a Week 7 loss to the eventual-Super-Bowl-champion Kansas City Chiefs, where McCaffrey had 48 hours tops to learn the Bay Area playbook. The next time the 49ers lost was in the NFC Championship game after rattling off a 12-game win streak. There was no team with more adversity at quarterback than San Francisco last year. And without a healthy quarterback, it still was by far the second-best team in its conference.

Robinson isn't guaranteed to be a game-changer like McCaffrey, but it's possible for him to be. And when that potential exists at your doorstep, you welcome it. His combination of athleticism, size, and durability gives him every opportunity to be a great NFL running back. If your favorite team takes him, and he's a bust, at least they swung for the fences instead of standing in the batter's box and letting someone else have a chance at the long ball. There is exactly one running back in this year's draft with the ability to be a game-changer from day No. 1. And that's why he won't have to wait long to hear his name called two weeks from now.