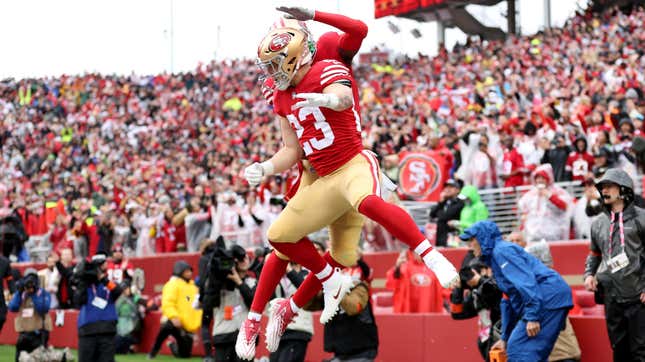 Anytime the Dallas Cowboys and San Francisco 49ers get together, it's a big deal for both franchises and the fan bases. But one radio host for 105.3 The Fan in Dallas chose to make it a little too personal by wishing injury on an opposing player. One of the hosts for "GBag Nation," The Fan's afternoon drive show, apparently thought it'd funny to interject his depravity into the Cowboys-Niners conversation by making an unfunny joke about Christian McCaffrey sustaining a potential injury.

America's team chokes! Cowboys blow it in Green Bay
McCaffrey's injury history
Anyone following the NFL for the past few years knows about McCaffrey's injury history in Carolina. During the 2020 and 2021 seasons, McCaffrey was limited to just 10 games for the Panthers because the injury bug had taken hold and wouldn't let go. Now that he's healthy and playing like an All-Pro running back once again, fanboys in Dallas are so desperate to get past the Divisional Round for the first time in 27 years that they'll beg and pray for an injury to one of San Francisco's key players.
That's how bad it's become in North Texas regarding the Cowboys. America's Team hasn't made a long playoff run in so long that guys on the radio have resorted to hoping for injuries, so Dallas has an easier path to winning. It's despicable and pathetic. But this is how bad it's become that a radio host feels the need to put this energy out into the universe.
All this does is create bulletin board material for fans and pundits in the bay area covering the 49ers. The players likely won't acknowledge it publicly, but surely many of them have heard the remarks. In all honesty, the Niners don't need any added motivation because they are the better team. But if they're looking for any extra pep, it just fell into their laps with this rogue broadcaster cracking silly jokes in Dallas.