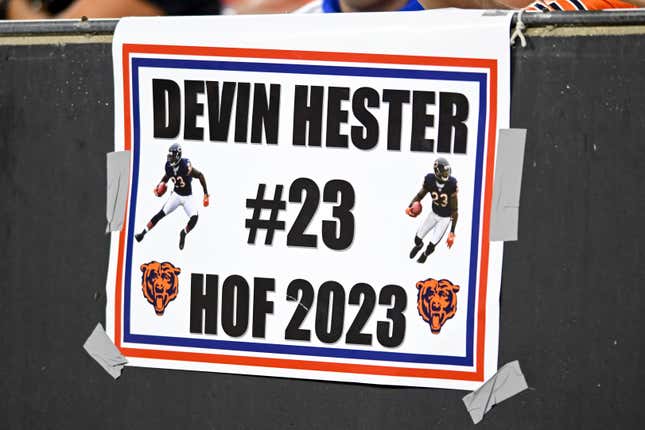 Most every time, I don't care about the Hall of Fame. Any of 'em. The Baseball Hall of Fame is now just a platform for every voter and commentator to prove how important they think they are or what new metric they say proves all. Everyone gets into the Hockey Hall of Fame as long as they went out drinking with the writers once (and every hockey player did, so whatever). Kevin Lowe got in there for fuck's sake, and no one can think of anything he ever did except stand next to Gretzky. The Basketball Hall of Fame…well, that's fine. Don't have much to say about it, seems like that's the only one that runs as it should.
Will it be divorce court for Lamar and the Ravens? | Agree to Disagree
The Pro Football Hall of Fame, much like the Hockey Hall of Fame, basically lets everyone in. That's partly due to the size of the rosters, and partly due to there being no one on Earth who can remember every player enough. Tell everyone LeRoy Butler should be in, and they'll believe you, because no one knows any better or cares all that much. Fine. All the games are on at the same time, I didn't watch the Jaguars enough to tell you anything about Tony Boselli. And anyone who did is a saddo.
But I will not stand for Devin Hester having to wait yet another year. At least. It's like the voters don't know fun when it smacks them right across their bloated faces. And Hester's fun definitely smacked you right across the face.
I'm sure someone who cares far too much and is the worst part of any party they somehow got an invitation to will argue that a kick returner is only out there for a handful of plays. That he doesn't deserve to be in there with guys taking 40 or 50 snaps a game who made a difference on every down.
Fuck. That.
Hester made everyone pay attention to punts and kickoffs. They were appointment TV. Who else did that? It was Showtime. Teams had to plan for him. He altered games. For fuck's sake, he made the most ass-backward dipshit team in the league, the Chicago Goddamn Bears, interesting. Nobody else in the past 35 years can say that. I watched that dude win games on his own from fucking special teams!
Hester took an afterthought role and made it prominent. Who else in this class can? Ronde Barber? He's just the Barber twin who wasn't a camera moth. Darrelle Revis's biggest claim to fame is Rex Ryan calling him "slapdick." I don't know the difference between Joe Thomas and Zach Thomas and I'm sure it doesn't matter. DeMarcus Ware, there's been 30 of him.
But Hester, man. You can honestly say there wasn't anyone like him, and there really hasn't been one since. He changed not just a position but a whole phase of the game. You remember anything that happened after his opening kickoff return in the Super Bowl? Nope, you sure don't. Bet you didn't even know they canceled the rest of the game after that because it was so fucking cool. Just fast forwarded to Prince and then everyone went home. That moment was so cool my roommate and one of my closest friends gave me a straight right to the jaw out of pure joy and excitement. And I didn't mind! What did Ronde Barber do that ever caused someone to involuntarily coldcock one of his best friends? Fucking exactly.
There are no rules to this. You can vote someone into the Hall simply because they were the most fun player of their era. Isn't the whole point of memorializing those who made the game special? Those who altered it? Those who made it stick in the mind? You can't do that more than Hester.
Get over yourselves. Put Devin in Canton. The Hall could use it more than he could.
You can't keep the Super League down
Greed won't ever be stopped. Even after getting DJ Jazzy Jeff'd out the figurative door, the Super League is back. Kind of.
A22, the ghouls put in charge of organizing and promoting the latest attempt to siphon off more money in soccer, are starting their full-court press. They released a statement yesterday outlining a new foray, this one will have up to 80 teams in four divisions, and will be earned on merit, instead of the last time when the 14 clubs would create a closed league they would be in every year.
The goal of this is obvious. It's multi-pronged. Last time it was just the elite clubs cutting themselves off, which left far too many enemies on the outside to shout them down. By saying it'll be so many teams, the hope is that the new version will get the second-tier in the Big 5 leagues dreaming about new money, as well as the best teams in smaller leagues.
What A22 and the creators of this mess want you to ignore is that the current system of European soccer, the Champions League and Europa League and Europa Conference, has 80 teams! This is just a reorganizing of that, while cutting UEFA out of the profits. It also has more games — 14 minimum — which will be an interesting cram into an already overstuffed schedule for teams.
Again, this is just other leagues' attempt to try and compete with the Premier League. The Premier League is the Super League, and clubs in other countries are jealous of the money and force they wield. They've already borked the Champions League, which will change formats in the season after next and get a minimum of eight games for everyone instead of six. They're clearly not done.
Don't know if this will fly, or get laughed out of the building again, but its ambitions are pretty naked. It's never enough, and these teams will never catch the Premier League until they organize their own house. But that would involve corroboration in their own nations, and that'll happen about the same time we get a quality Silver Surfer movie.
Austin Reaves crossover
Now here's some prep school 8th grader crossing over Giannis.