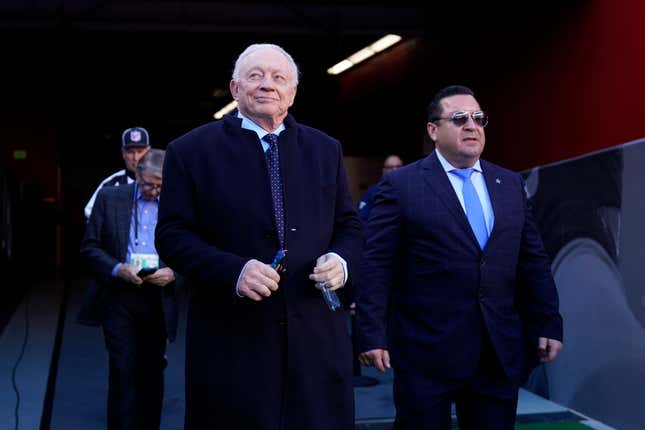 Dallas Cowboys owner Jerry Jones is never shy in front of the cameras, especially when it comes to self-promotion. We often hear from Dallas' head honcho that he's willing to do "whatever" it takes to win. That makes for a good sound bite to get the fan base excited, but when presented with those opportunities, Jones rarely capitalizes.
Is Dan Snyder a human shield for Jerry Jones? | Conspiracy Thursday
The Cowboys completed a trade over the weekend, acquiring wide receiver Brandin Cooks from the Houston Texans. The Cowboys got Cooks for a couple of late-round picks in the 2023 and 2024 drafts. Come to find out, Cooks was basically the consolation prize for Dallas as the team was in contention to land Denver Broncos wideout Jerry Jeudy. Jones reportedly didn't want to give up a first-round pick for Jeudy.
Holding onto a first-rounder for?
While it's understandable not wanting to let go of that first-round pick, there would've been a few advantages to bringing Jeudy to Big D. For one, he's still on his rookie deal and makes a lot less money than Cooks right now. Although the Broncos' former first-rounder will be up for an extension soon, the Cowboys could've gotten at least one year where his deal costs them next to nothing. Extra spending money for free agents (even your own) is always a good thing.
In terms of production, there wasn't a huge gap between Cooks and Jeudy last year, although the latter is viewed as having the greater upside being about five years younger. Playing in that Dallas offense might have helped Jeudy grow immensely as a pro. Having played at Alabama, it's almost expected that Jeudy will become one of the next great receiving threats in the NFL.
During Jeudy's first three years in the league, he has yet to have a quarterback who can get him the ball consistently. We all witnessed the Russell Wilson/Nathaniel Hackett situation in Denver last season. It would've been difficult for some all-time greats to have thrived in that environment. But that lack of production (despite the circumstances) might have been enough for Jones to think twice about Jeudy and opt for Cooks.
That's Jerry, though. He loves his draft picks. Some mock drafts have Dallas taking another receiver anyway, so they could still end up with another pass catcher on a minimal deal. Dallas selected a receiver in last year's draft, taking Jalen Tolbert from South Alabama in the third round. In his rookie campaign, Tolbert barely touched the field, catching two balls for 12 yards.