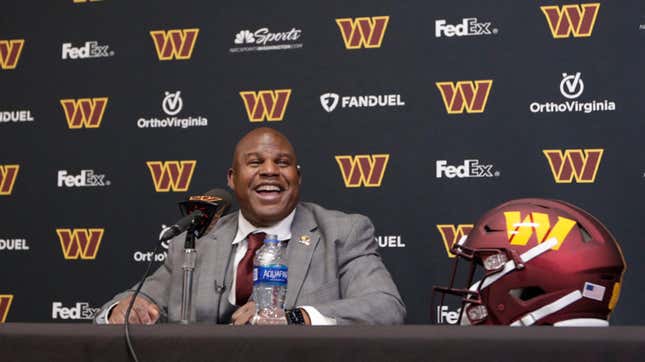 Answering the question as to why former Kansas City Chiefs offensive coordinator Eric Bieniemy must have that title and not be a current head coach has been the story of in the NFL since Rihanna blessed us with her presence at Super Bowl LVII and Patrick Mahomes won his second championship — with Bieniemy as the offensive coordinator. But Andy Reid gets all the credit, right? It was clear after this year's coaching carousel that something needed to change for Bieniemy. And after being introduced as the Washington Commanders' new offensive coordinator on Thursday, the conundrum surrounding why he works for Ron Rivera and isn't one of his 31 NFL head-coaching colleagues only grew in murkiness.
Should Eric Bieniemy have waited for a head coaching job?
Should Eric Bieniemy have waited for a head coaching job?
Yes, his rap sheet has been reported as a possible reason, but that hasn't stopped other individuals without a pristine past from being hired. Hello Urban Meyer. There was also the weird, borderline-racist trope that he didn't interview well. The underbelly of that reads as if he's not well spoken, he can't communicate with those that are in executive roles in franchises. What a mind-numbing load of crap that always was. Remember Eagles' coach Nick Sirianni's opening press conference in Philadelphia? And he led his team to the Super Bowl in year No. 2. Bieniemy has been gerrymandered into becoming the poster boy (man) for the negative side of the NFL's hiring process for head coaches.

Should Eric Bieniemy have waited for a head coaching job?
The Beast of the East
In the NFL's offseason calendar, having a big splash this early usually doesn't take place. We typically must wait until free agency begins, which is March 15 this year, for those fireworks. Yet Bieniemy's entrance into the nation's capital addresses the weakest point on the worst team in the NFC East. Despite challenges from the AFC North, Bieniemy's addition to the NFC East confirms it's still the strongest division in the NFL. If Washington's offense improves even slightly from last season, and without Carson Wentz and Taylor Heinicke at quarterback, those chances are high, it's a playoff team. Truthfully, one play goes differently in both games against the Giants last season, the Commanders were already a playoff team with a crappy quarterback.
In a war between the AFC North and NFC East, you can call it a push between the Eagles and Bengals. Both lost to the Chiefs by a field goal to end their seasons. Dallas has a slight edge on Baltimore without a healthy Lamar Jackson. With him, it's a push. The strength of an entire division usually relies on depth. And the Steelers and Browns were both stink monsters last season. The Giants and Commanders both showed signs of promising futures. If Kenny Pickett is the best representative of that from the bottom two AFC North teams, it doesn't speak well to either's long-term outlook.

Bieniemy was inside an offensive juggernaut in Kansas City. Too many chefs in the kitchen for all to share the spoils of a James Beard Award, especially for those pesky line cooks. Now, Bieniemy is on an island in Washington. Ron Rivera is a defensive-minded head coach. He's betting a renaissance for his stay atop the Commanders on the exploits of Bieniemy elevating Sam Howell to be the franchise's first stable presence at quarterback since Mark Rypien. If you count Kirk Cousins, please shut up. He was always a mistake. So was Jason Campbell.

Asked several times on Thursday about whether his stay in Washington was only to prove whether he could run an offensive not around Any Reid in hopes of getting a head-coaching job, Bieniemy gave the only answer he could about how his feet were set with the Commanders. While I think there's some truth to having pride in your employer and he genuinely wants to guide another group of young players, there is zero shot he leaves an easier job with the Chiefs if a bigger plan isn't at play. A raise and more responsibility come along with the move to the NFC East and it could be the final remaining holes on his resume to where he could finally run his own team. Then you remember it's the same schmucks hiring for head coaches and they may move the goalposts for Bieniemy again. In the meantime, all he can do is prove why the NFL is so jagged by leading Washington to deeper than the divisional playoffs for the first time in over three decades.