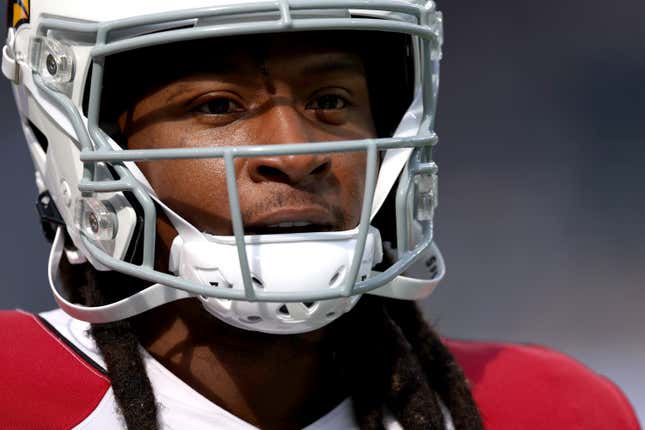 Bill Belichick has lost again. DeAndre Hopkins will not be playing football for the New England Patriots in 2023. Instead, he is expected to sign with the Tennessee Titans according to Doug Kyed of AtoZ Sports. NFL Network's Ian Rapoport is reporting that Hopkins will sign a two-year $26 million deal that can get up to $32 million in incentives.
Has Bill Belichick lost his touch? | Agree to Disagree
Who will take over for A.J. Brown?
The Titans continue with their effort to replace A.J. Brown. He continued to shine as one of the best wide receivers in the NFL for the Philadelphia Eagles last season. The Titans used the extra first-round pick they received in the trade on Treylon Burks. It was not a rosy rookie season for him.
Asthma issues resulted in Burks failing the Titans' preseason conditioning test. Then a toe injury and concussion protocol both meant him missing several weeks of play. When on the field, he was part of an offense that was 24th in the league in weighted DVOA. Ryan Tannehill struggled when healthy, and when he was out rookie Malik Willis was in no way prepared to run an NFL offense.
With Hopkins in the lineup, the Titans are hoping that the field opens up for Burks. Even if Hopkins no longer has the explosiveness to be considered one of the top wide receivers in the NFL, his hands, body, and experience, should be enough to get him open and draw attention from opposing defenses. This signing may be able to provide some balance to an offense that lost all of it once Brown was traded. Meanwhile, Derrick Henry carried the ball in 2022 for more than 300 attempts for the third time as a pro.
On paper, Hopkins is a perfect fit for the Titans. The type of veteran talent who can give them a boost back to the top of the AFC South. However, there is reason to question how much production Hopkins has left to offer a team.
What does Hopkins have left?
When the Arizona Cardinals traded for him in 2020, they signed him to a two-year, $54 million extension. That deal would kick in for the 2023 season, once he played out the last three years of his then-record five-year $81 million deal, $49 million guaranteed.
Hopkins has played 19 total games over the last two seasons due to injury and suspension, and didn't total 600 yards receiving in either one. The Cardinals could not find a trade partner this winter for Hopkins, so they chose to eat more than $22 million in dead salary to release him. He finally agreed to a contract with a new team in July that is reportedly less than half of what he would have made with the Cardinals — sans the incentives.
In three years Hopkins has fallen from top-tier NFL wide receiver to a team willing to save less than $10 million by having $22 million on the books for a literal zero contributor. For this to befall Hopkins at only 31 years old, how much he is able to contribute to an NFL team is a legitimate question.
For the Titans, if he can catch 80 passes and move the sticks, then the deal is worth it for them, even more so if that leads to a breakout season for Burks. If Hopkins somehow reaches his past All-Pro form, then they will have won the Brown trade. But if Hopkins plays in just over half the games and puts up paltry stats, then this is likely the last round for the Titans before throwing in the towel with their current roster.
That would turn this on-paper loss for Belichick into a win.