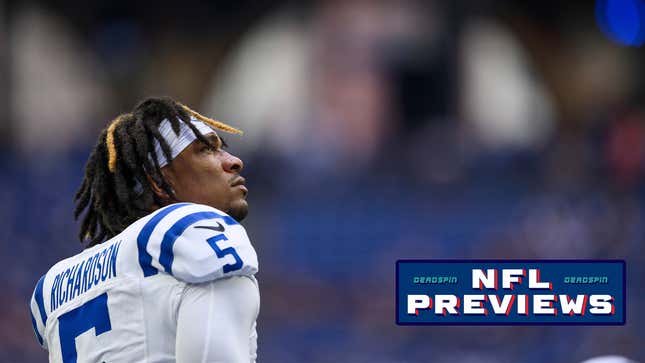 The quote that keeps coming to mind every time a piece of news comes out of Indianapolis Colts camp is from Javier Bardem in Skyfall: "What is this if not betrayal? She sent you after me knowing you are not ready, knowing you will likely die. Mommy was very bad." Anthony Richardson in this case in James Bond, "mommy" is Jim Irsay, and the rest of the league is Bardem.
The difference in this instance is no amount of radio transmitters, or guile is going to get Richardson out of this jam alive. The best friend of a young quarterback is a No. 1 receiver, and then a strong running game. About that last bit: There was a report Monday that the franchise has granted running back Jonathan Taylor permission to seek a trade.
Taylor, who led the NFL in rushing in 2021, is in the final year of his rookie deal and wants a long-term contract. The team is seeking a significant return in a trade, including a first-round pick, or a package amounting to that. Funny, because Irsay was among the most boisterous opponents when running backs held a summit last month for the raw contracts they're being offered, and you'd think Jimmy would know how little the league values backs.
Really, the relationship between Taylor and the organization has been icy since Irsay spoke out against running backs and their plight. Essentially saying, "Go screw yourself" to your best young skill position player is a move that you might want to avoid.
If only for a season, especially this one, it'd be smart to play nice, and not publicly fight with a guy who had 1,800-plus yards and 18 scores two years ago. This is further malpractice from an owner who hired an ESPN analyst as his interim head coach, and tried to pivot to Sam Ehlinger at quarterback last season. Both led to disastrous results, and a 4-12-1 record in 2022.
Oh, and the fans had to petition to prevent Jeff Saturday from getting the full-time job. Instead, they brought Shane Steichen over from Philly, where he helped develop Jalen Hurts, and that's the pipe dream for Indy — a dynamic pass-run threat at the head of an explosive offense.
Not all rookie quarterbacks are created equal, and trial by reps might be the best way to get a QB with limited college starts where he needs to be. Hurts had more pass attempts in his lone year at Oklahoma than Richardson had during his entire collegiate career. Even Richardson was surprised when he was named QB1 last week.
"Honestly, I was shocked," Richardson said. "I've been grinding, putting in the work to get the title, but it's not really all about the title. I'm just trying to make sure I'm ready for the team. Despite being labeled as QB1, I've still got other guys in the room helping me to get to that standard. I'm forever thankful for them. I appreciate them and I'm glad I did get the nod and have the trust of everybody in the building."
If that was true, and he did have the backing of the staff, then why didn't he play a down in the team's second preseason game? C.J. Stroud and Bryce Young both saw action in Week 2 of the exhibition schedule, and the Panthers want to get Young even more reps in the finale.
This is the time to build chemistry with the pass catchers, and No. 1 receiver (by depth chart distinction only) Michael Pittman Jr. Meanwhile, Gardner Minshew is doing his best traveling salesman pitch for the starting gig, and it might not be a bad idea to run him out there as a "get me over" to next year.
Richardson struggled with basic SEC defenses a season ago, and he was largely relying on physical talent and instinct. The best-case scenario is a Justin Fields-type season where he goes ballistic on the ground, and still only wins three games. The worst case is a serious injury, or he craters mentally like Zach Wilson.
The offensive line is aiming for a bounce-back year after injuries plagued the unit last season, and the same could be said for Jonathan Taylor. Except, instead of getting used to his new backfield partner, he's looking for a trade partner as the fanbase, and Jim Irsay, spiral further into the dregs of the league, with the other mismanaged and comically woeful franchises.