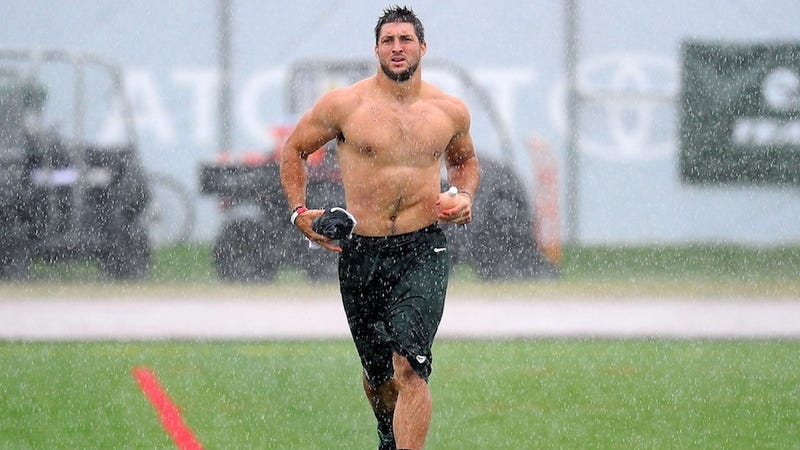 The backup quarterback is always more popular than the starter because he is an unknown quantity; he theoretically could be better than the starter. Tim Tebow is not an unknown quantity. We know exactly what his strengths and weaknesses are. His strengths include things like "being a teammate" and "being a leader." His weaknesses include "throwing a football."
In spite of, or likely because of all this, there will always be reports like this one from the NFL Network's Michael Lombardi. Earlier this morning Lombardi reported that, as of Friday, the Jets had 12,000 unsold tickets for Monday Night's surefire fiasco of a match up with Houston and speculated how this will factor into the Tebow as a starter dilemma. It is worth noting that although that many unsold tickets may have caused a blackout in New York, a team spokesperson said Lombardi's report was inaccurate and that all Jets games would be televised this year.
This report—which may or may not even be accurate—is the bellows to the Tebow Train. Per Mike Florio:
As Lombardi surmises, the struggles to fill the seats will make it more likely that Tebow will get a shot, at some point, to start at quarterback.
Or, how about the New York Post?
The empty seats will spark speculation that the team could make a change at quarterback in order to spark interest. The Jets are already hearing cries to replace Mark Sanchez with Tim Tebow because of the offense's struggles. There is also a belief Jets owner Woody Johnson could exert pressure on coach Rex Ryan to play Tebow at some point.
At this point, let's do it. Let's put aside, for a moment, that if people wanted to buy a ticket to see Tim Tebow play football for the New York Jets they would not have to wait for him to be the starter. Let's just put Tim Tebow in as the starting quarterback right now. Members of the media can pat themselves on the back for foreseeing this back in May and then when it turns into a flaming pile of shit we can hear about how Tebow never should have been inserted into the starting lineup. The Jets can then turn back to Mark Sanchez—who will by then be nothing more than a jellyfish in a green and white jersey—to mercifully end the season and start the cycle of mediocrity all over again by securing a draft pick low enough to take Matt Barkley.
Or, and just hear me out on this one, we can stop perpetuating the easy to sell headlines that Tim Tebow is anything but a sideshow, let alone a starting NFL quarterback. He will never save the New York Jets if for no other reason than Chaz fucking Schilens is a starting wide receiver right now.
Lombardi: Jets had 12,000 unsold tickets as of Friday [PFT]
Lots of tickets still available for Monday night's Jets-Texans game: report [New York Post]