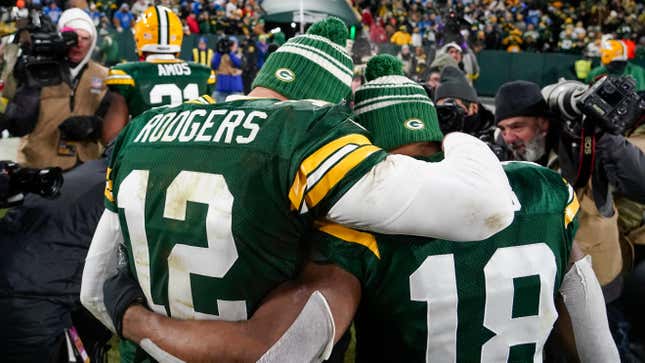 The NFL is going through one of its greatest quarterback renaissances in league history. It's never been clearer, you can't win a Super Bowl without an elite quarterback. Of the eight teams remaining in the postseason, only one team — the New York Giants — has a proven non-elite signal caller at the helm. That's right, Trevor Lawrence and Brock Purdy putting their name in lights would elevate them beyond belief over the next few weeks. That shift to a younger, more versatile quarterback has led to cult status for Patrick Mahomes, Josh Allen and more recently, Jalen Hurts. There's no longer a seat at the table for Tom Brady or Aaron Rodgers. 

Don't buy into the Tom Brady hype | Trash Talkin' Tuesday
You done messed up, A-Aron
Somehow, Rodgers is due to make nearly $60 million next year. I know he was league MVP in 2020 and 2021. He was the NFL's least-valuable player in 2022. If Rodgers played half as well as he did in either of those most-valuable seasons, the Packers would've easily made the playoffs. Instead, without Davante Adams at his disposal, he was made to look like an overhyped mess. This season wasn't likely an aberration from Rodgers. What we saw this season from him is here to stay with little help on the way. When he's judged for playing terribly, he'll retreat to the safe space of softball questions from Joe Rogan or Pat McAfee and continue to be unvaccinated.
Pat McAfee Show has been Rodger's platform
Of course on McAfee's show recently, Rodgers said his focus is winning MVPs, whether that's in Green Bay or not. First off, no, you're never winning the highest individual honor the NFL has again. There are so many better players than you. Also, what great leadership it shows by prioritizing an individual award over team goals. What player would run through a brick wall for someone who's most concerned about themselves?
Brady looks washed
Now let's move on to Brady, who did win the Super Bowl two years ago and the following season was eliminated by the eventual champs. Let's not pretend like the Buccaneers stood a chance on Monday night. All the talk about how in the playoffs, Brady can lead a team with a losing record past a truly solid Dallas team. The seven-time Super Bowl champion looked like a shell of his former self for most of 2022. We expected a jolt as he's getting older? The Cowboys dominated that game, and Brady will be looking to leave Tampa Bay and leave another franchise worse than he found it. Minus, you know, that Super Bowl he won with the Buccaneers. And let's not get started on him regaining any of that Patriots form. Somehow, teams will waste money on him by clamoring for the services of a soon-to-be-46-year-old. Going after someone who wasn't born when Brady entered the league and getting more yield from that decision is likely.
What do the numbers say?
Statistics are misleading for both men. Both are in the top 10 of the league for passing yards and passing touchdowns. Both are also in the top half of the league in interceptions. Brady has the lowest passer rating of any quarterback in the playoffs. Rodgers would've been the second-worst had Green Bay actually qualified. In total QBR, Brady finished the 2022 regular season in 18th, while Rodgers was seventh-to-last, coming in at No. 26. With as much hate as Russell Wilson received in his first year in Denver, he finished one spot below Rodgers in QBR.
The NFL has passed both Brady and Rodgers by and it's time for the league to move on from both of them. It'll be harder with Rodgers because of his contract, but why would any franchise think either of them is the right man to lead them to the promised land? They've done it before, sure, but judging them by their current form is the only set of expectations Brady and Rodgers should face. And that should mean both should start the waiting period to get into the Pro Football Hall Of Fame, not adding to their resumes.