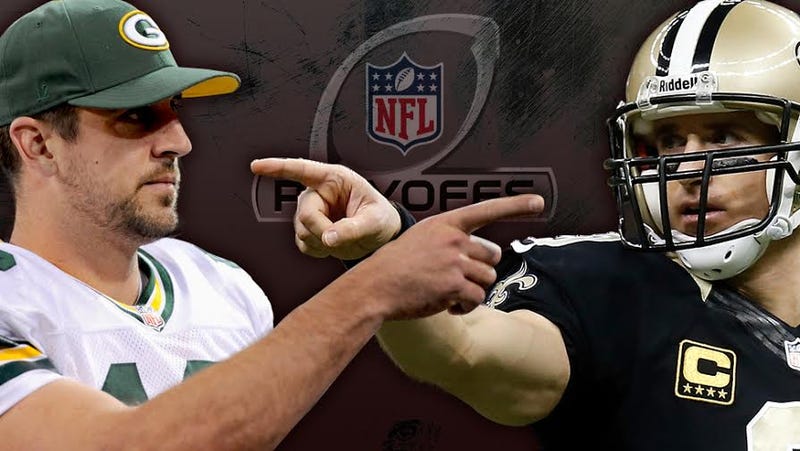 The teams with the best Super Bowl chances in this year's playoffs are obvious. But who cares about them—most aren't even playing this weekend. This is a look at some of the other teams in the Wild Card round who haven't gotten as much play, whether it's because they're heavy underdogs or just haven't had many national games. Here's what you need to know about this year's dark horses.
Green Bay Packers
Strengths: This team looked dead until Aaron Rodgers and Chicago's piss-poor coverage let them squeeze in as the best underachievers in the underachieving NFC North. Throw out the 8-7-1 record, since seven and a half of those games happened without Rodgers. It's obvious, but he's the keystone for the Packers. In nine starts, Rodgers has a top 10 DYAR for quarterbacks, and the Packers were punching weight with the Broncos at midseason. (DYAR isn't a small sample size thing; it means that in nine games, Rodgers has outperformed the majority of the league, no different from being top 10 in touchdown passes despite missing time.) Randall Cobb's return is also helpful, as he provides another receiving threat outside of Jordy Nelson.
Weaknesses: What position did Rodgers play on defense? Really though, there's no excuse for the Packers having given up 30.0 points a game in the final nine games of the regular season, seven of those with non-Rodgers quarterbacks, except that they've sucked constantly. Green Bay's defense ranks as the second-worst this season in DVOA. They're exploitable through the air and on the ground. With linebacker Clay Matthews ruled out, there go the pass rush and second-level run stopping. The Packers just don't look healthy enough to survive against a likely run-heavy game plan from San Francisco.
New Orleans Saints
Strengths: Drew Brees, 2013's third-best regular-season quarterback in DYAR, is going to have to slash up an easy-to-slash Philadelphia pass defense. It shouldn't be difficult if the Saints offensive line can handle the blitzes and give Brees time. The line's been adept at keeping Brees upright in the regular season, with the fourth-best adjusted sack rate. It'll be interesting to see how the Eagles handle tight receiver Jimmy Graham. Does Graham warrant their best cornerback or are linebackers trusted to handle zone coverage? Regardless, Brees to Graham should happen frequently and eventually allow other receivers to get open.
Weaknesses: As a unit, Rob Ryan's defense has been decent, but the Eagles have LeSean McCoy, who's ruined many a front seven this season. New Orleans ranks near the bottom in open field yards (1.13), while McCoy's broken tackles (57, third-most of running backs, to be exact) and picked up big gains all year, so the Saints should focus on the tackle instead of the possible turnover. Malcolm Jenkins is the one to pick on in the secondary, as his coverage has been horrible for a safety. Jenkins allows 1.06 yards per coverage snap, second-most among safeties who have played at least 50% of the possible snaps. Starting corner Corey White, who replaced the injured Jabari Greer, has also played poorly in the final few weeks.
Cincinnati Bengals
Strengths: A.J. Green and Marvin Jones are dangerous. Green's the assumed threat whose best work has come on deep throws; he's caught 14 passes for 565 yards and six touchdowns on throws of 20+ yards to the middle and right of the field. Jones, on the other hand, has done well at all lengths, but primarily does his work on the left side of the field. He's caught six passes for 144 yards and two scores on deep routes over there, and 11 receptions for 130 yards and two touchdowns on routes of 0-9 yards. And San Diego also has to worry about pass-catching back Giovani Bernard, who has 56 receptions for 514 yards and three touchdowns.
The Bengals defense has stayed stingy even after losing star defensive tackle Geno Atkins for the season, though his loss shouldn't be discounted—Atkins is one of the most destructive inside forces in the league when healthy. Still, Cincinnati's opponents' drive success rate is .628, lowest in the league. Cincy also allows the least touchdowns per drive after Seattle and Carolina (.144).
Weaknesses: Offensive turnovers. The Bengals are above average in terms of points per drive (1.99), and time of possession per drive (2:42), but they commit a surprising amount of turnovers per drive, which pisses all that progress down the drain. The Bengals have turned the ball over on 15.6% of their drives, ranking 28th in the league. Quarterback Andy Dalton's thrown 20 interceptions and lost three fumbles. San Diego's defense needs to get to him before he gets to Green or Jones.
Defensive end Michael Johnson isn't as menacing if offenses run the ball at him. Though Cincinnati's defensive line is generally great, runs towards the left tackle (or, looking at it the other way, right end Johnson) have produced 4.82 adjusted yards, fourth-most in the league.
San Diego Chargers
Strengths: Behind Peyton Manning, guess who's second in DYAR for quarterbacks? Well, it's obviously Philip Rivers, because this is being written in the Chargers' section. He's turned it around and sucked a good deal less under head coach Mike McCoy. Rivers and the Chargers offense focus on clock-killing, exhausting drives; San Diego takes up the most time of possession per drive (3:22) and accumulates the most yards per offensive drive (40.13).
The Bengals can blitz, but Rivers won't likely be flustered. He has a 65.5 completion percentage with 11 touchdowns and just two picks when blitzed. Even with Danario Alexander and Malcom Floyd out for the season, Rivers has found options in Antonio Gates, Keenan Allen, and Danny Woodhead, who is San Diego's new Darren Sproles. Woodhead is the ever-reliable checkdown option, and all but five of his receptions have come from behind the line of scrimmage to nine yards out.
Weaknesses: That defense is horrendous, and it isn't an exaggeration. They have the worst DVOA in the league. It doesn't help that linebackers Dwight Freeney and Larry English are on injured reserve, but it's hard to explain the pass defense being this atrocious. It's not the fault of safeties Eric Weddle and Marcus Gilchrist so much as it is every cornerback on the roster. A.J. Green or Marvin Jones can and should wreck San Diego's shit with little effort. Worth noting: The Chargers give up a third-most 36.0 yards per drive and don't really force turnovers, which is a recipe for disaster should the game come down to one last drive in the fourth quarter. Philip Rivers can't pick off passes from Andy Dalton.
Indianapolis Colts
Strengths: Andrew Luck, when given time in the pocket, is surgical, with a 68.1 completion percentage under no pressure. His mobility keeps plays alive and lets him find T.Y. Hilton, who's deadly with just a little space. Hilton clowned on Seattle's normally feared secondary in the Colts' Week 5 upset of the Seahawks, totaling five catches for 140 yards and two touchdowns, including a huge 73-yard score on Richard Sherman. The receiver can possibly burn Kansas City for some big plays.
Weaknesses: Despite the organization's best (?) efforts, Indianapolis still has no running game. Donald Brown is not a reliable running game, and there's no use squandering crucial plays on a drive for Trent Richardson, unless you need two yards on first and 10. An air-heavy offense puts more of the burden on Luck, who can handle the load, but not constant pressure. Chiefs' pass rushers can and will disrupt Luck when they know he's passing, and his completion percentage (44.1% in plays under pressure) will suffer.
Image by Sam Woolley