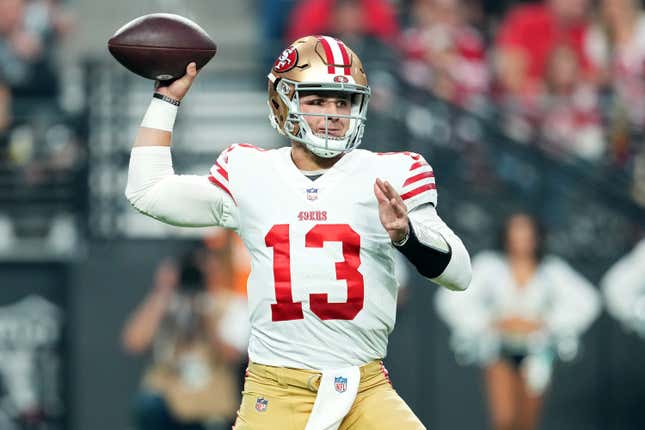 John Harbaugh will not be the only coach to have to answer questions about his starting quarterback situation during the NFL League Meetings. Kyle Shanahan won't be asked about trade requests and franchise tags, but the media will want to know who will be starting at quarterback for the San Francisco 49ers come autumn. I hope the franchise's response has been coordinated, because John Lynch has already weighed in on who he believes is the current front-runner in the 49ers' QB room.
"I think Brock [Purdy] with the way he played, that he's probably the leader in the clubhouse," Lynch said to the media. "I'll let Kyle make those kinds of decisions but I know when we talk I think Brock's probably earned the right to be the guy if we were to line up, he'd probably take that first snap."
"If we were to line up?"

I certainly hope that the 49ers general manager caught himself right before he said "today." If for some mysterious reason the 49ers' offense had to line up for a play during the league meetings, their starting quarterback would be Sam Darnold. Neither Purdy nor 2021 No. 3 overall pick Trey Lance is currently ready for game action.

Lynch talked during the press conference about Purdy working with baseball doctors to rehab the torn UCL in his throwing elbow. While the 49ers hope that he will be ready for training camp, Lynch said that they will have a more concrete picture of Purdy's health in 12 weeks.

Lance broke a fibula and tore muscles and ligaments in his right leg during the first half of the 49ers' second game of the 2022 season. He underwent surgery shortly after, and had a second one performed on his ankle in December because of some irritation due to "hardware placement," from the original surgery.

The fact that the 49ers even signed Darnold this offseason is proof that they don't need to be making any proclamations about who is their "leader in the clubhouse," to start at quarterback. Lance still hasn't taken nearly enough snaps for his in-game performance to be properly evaluated. What the 49ers do know is that they were ready to shove Jimmy Garoppolo out the door for the entire 2022 offseason until they couldn't find a trade partner. Much of that was due to their commitment to Lance.

Garoppolo suffered an injury that ended his season as well. Purdy took over a highly talented offense that had acquired Christian McCaffrey prior to the trade deadline. He deserves credit for being a third-string rookie who went from the final selection in the 2022 NFL Draft, to four touchdowns in a playoff victory.

As well as he played, the situation that he walked into was ideal for an NFL player with no NFL game experience. According to Next Gen Stats, for the 2022 season, the 49ers had three wide receivers who averaged at least three yards of separation at the moment they caught the ball. Brandon Aiyuk averaged 2.9. No other team had more than two pass catchers that were consistently that open. Someone had to get those players the ball, but no one in the league was set up like Purdy.
He certainly deserves the chance to win the job this summer if his arm is right. Lynch did stress that even though Purdy is currently in the lead, there will be a competition for the job.

But if there's competition for the job, there is no need to declare that a person who can't currently throw a football is in the lead. The Super Bowl was played just over one month ago. There is still a lot of offseason remaining.

Lynch and Shanahan have plenty of time to evaluate their quarterback situation. There is no need for favorites when they had to bring in a third option for insurance purposes because of the extent of the injuries that Lance and Purdy suffered.

Now is not the time for favorites. These next few days in Arizona are for cocktails and steaks. When Lynch and Shanahan get back to California, it will be time to finalize their draft board and organize OTAs. As long as Old Man Winter is hanging around, and Purdy is still doing range of motion exercises and no throwing, the 49ers' brain trust can wait a while to pick a favorite.