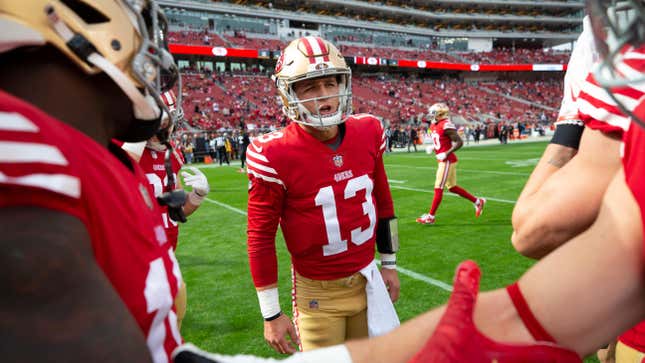 The San Francisco 49ers have a quarterback issue (yet again) that could linger into the regular season. News broke on Monday that last year's rookie sensation, Mr. Irrelevant Brock Purdy, could miss the entire 2023 campaign recovering from the elbow injury he suffered in the NFC title game against Philadelphia.
Which NFL team had the most improbable Super Bowl win?
San Francisco looked ready for this type of scenario as they signed Sam Darnold early in the free-agent signing period last month. Darnold hasn't exactly been a star in the league, but he is the most experienced quarterback the Niners have on the roster after Jimmy Garoppolo signed with the Las Vegas Raiders in March.
This latest news on Purdy's recovery puts the 49ers in a situation where head coach Kyle Shanahan might be forced to choose between a guy considered a bust after five less-than-stellar years in the NFL and a young QB who many feel is on the fast road to bust-ville based on health and has shown little improvement on the field in his first two years. Either way, it's not the best position for the Niners coaching staff.
Once again, they'll have a team that's ready to win as they have for the past few years, and the same problem continues to occur. They can't seem to nail down the QB spot and keep a guy on the field an entire season. Everyone seems to have an opinion on Jimmy G, but had he been able to stay healthy while leading the Niners' offense, he'd probably still be in San Francisco. He might not have the best arm, but they did win when he was on the field.
Indeed, the 49ers could dip into the free agent market again and grab one more body to compete against Darnold and Lance during training camp. But at this point, all the coveted free-agent QBs have been taken off the board. Unless they want to contact a player like Cam Newton, and he isn't even a sure thing at this point in his career. SF could draft another QB, but hoping for lightning to strike back-to-back years is insane and not likely to happen.
Shanahan is one of those coaches who feels he can put any competent QB on the field in his game plan, along with a great defense, and win games. We've seen him be successful over the past few years with that philosophy, although he's fallen short of the ultimate goal of winning a Super Bowl thus far. With the right QB, the Niners could be favored to win it all heading into next season. But if Purdy is out and they decide to stick with Darnold and Lance, it could be another year of getting close but falling short in the end.