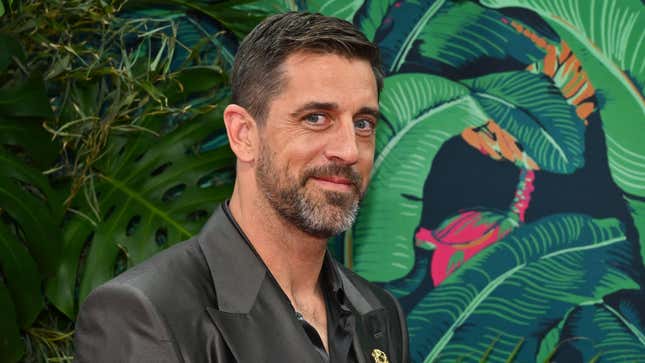 Once professional athletes reach a certain level in their respective sport, no matter how long they've played and how obvious their decline becomes, it's rare that anyone will go out on a limb and proclaim this to the masses. The more polarizing you become in your fame, the less people are willing to call it how it really is, especially those close to the game. At least one anonymous NFL scout feels this way regarding New York Jets quarterback Aaron Rodgers.

5 Richest active NFL players | Money Mondays
"I think everyone is afraid to say he's declined a little. He's still a great thrower and sees it really well, but he's more like [rank] eight to 12 for me."
First, let's get the elephant in the room out of the way. I called out Rodgers' decline last November by saying he was "washed." Dan Le Batard even grabbed the article for his show because no one else had jumped out with that opinion at the time. Since then, more have come out with similar opinions on A-Rod surrounding the trade to NYC.
Is Aaron Rodgers washed?
But this scout who chose to retain his anonymity is mostly correct. Most won't come out and say Rodgers is done, washed, finished, or any other word used to describe his tumble down the NFL's elite mountain last season. Bad seasons happen, even to the best, especially as they age in this rough sport. However, watching Rodgers last year in Green Bay, it wasn't just the numbers that took a significant dip in numerous categories. Watching him pass the ball last season, the velocity that was once one of the most consistent parts of his game wasn't there consistently enough.
Maybe age, injury, or lack of familiarity with passing targets all contributed to some slippage in Rodgers' game. But the scout who provided the quote above hit the nail right on the head. Nobody wants to say it, although we saw it live in the flesh for 17 games, of which the Packers won only eight. The future Hall of Famer threw 12 interceptions last year, and that was the first time he'd thrown double-digit INTs since 2010. And Rodgers' 3,695 yards passing was the lowest of his career when playing at least 15 games.
Of course, having a new leash on life playing for the Jets represents a new beginning and the opportunity for Rodgers to prove those like me wrong. However, if Rodgers can't produce a bounce-back year, what will the excuse be this time? Do we revert to blaming the wide receivers and lack of chemistry again? Or will the blame be deflected onto Rodgers' buddy and offensive coordinator, Nathaniel Hackett? There are so many excuses lined up for this guy. If he fails, it's ridiculous.
Some favor The Jets to not only compete in the AFC but win their division and land themselves in the conference championship game. All this recognition is because of Aaron's arrival in East Rutherford, New Jersey. A lot is riding on this 2023 campaign for the Jets. Rodgers' legacy is basically set as a four-time league MVP, 10-time Pro Bowl selection, Super Bowl winner, and MVP of that game. Everything is based on this acquisition, working out for the best. The Jets' front office even allowed Rodger to hand-pick certain players to join him for the ride. If this Jets squad somehow wins less than nine games and A-Rod is on the field throughout, he'll find a way to wiggle out from under the blame, and most of you won't bat an eye.