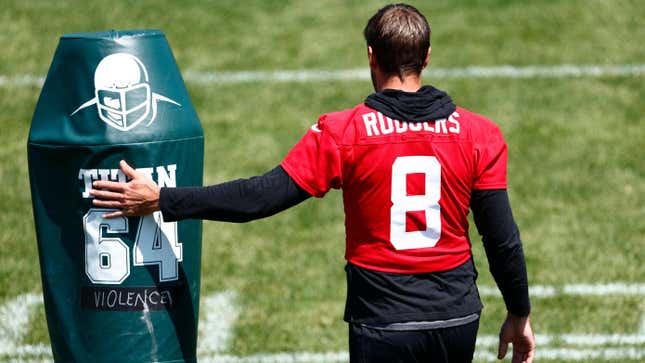 So, this is where we're at now. Hot takes for the sake of hot takes. Any time you pick the New York Jets to do anything other than perform like the Jets, that's a hot take. All of a sudden, because they've acquired an over-the-hill, entitled, cave-dwelling quarterback in Aaron Rodgers, we're supposed to believe the Jets are going to do anything other than be the Jets. There's a revelation. A New Yorker picking their worst team historically to make it to the big game before the season kicks off. That only makes sense in New York. But that's what Adam Schein of NFL.com and Sirius XM wants you to believe.

Which NFL team had the most improbable Super Bowl win?
Not only does Schein pick the Jets to represent the AFC in Super Bowl LVIII, but he also feels it'll be a reunion between New York and one of their former QBs. Schein has picked the San Francisco 49ers, led by none other than Sam Darnold, to square off against the Jets for the next Vince Lombardi trophy. Goodness gracious, it sounds like a horrible movie script the way he's laid this out.
Let's talk about Sam Darnold
Darnold flamed out in NYC, he couldn't hack it in Carolina, and now he's supposed to take the Niners back to the promised land. Highly doubt Darnold will be the Niners' QB late in the season to even have the opportunity. Unless San Francisco has another repeat of last year's QB musical chairs, Darnold will be holding that iPad. Say what you will about Jimmy Garoppolo, and most of you have, but Darnold isn't even on that level.
Yes, the Niners have a great team in place and coaching staff, but once Brock Purdy is healthy, he should be the guy. Trey Lance could be the odd man out, but he's the wildcard in that 49ers' QB room right now. The likelihood of Darnold being the one to lead SF to another Super Bowl is minimal.
It's even less likely that Darnold would play against the Jets (the team that drafted him) if he can navigate the Niners to the last game of the 2023 season. One of the biggest reasons this will not happen is that the Jets won't be there either way. The AFC is a gauntlet, and Rodgers didn't have the greatest year in '22.
2023 Aaron Rodgers is a different animal altogether
Sure, you could point to him losing his best wide receiver, Davante Adams, and being forced to depend on a group of young guys. That's probably fair to some extent, but Tom Brady played with no-name receivers or average to above-average targets for years in New England and got the job done plenty of times.
Rodgers had a resurgence a couple of years ago, winning back-to-back league MVP awards, and he followed that up by showing us last season that time is likely running out on his career. Forget numbers; watch games. He wasn't making the passes we'd grown accustomed to him completing, and overall, Rodgers looked like he was declining.
But A-Rod is the Jets' guy, and he's the one they've hitched their wagon to, thinking he can get them through a tough AFC. Good luck with that, and to Mr. Schein with his pick. We've got a long way to go, as it's only June, but that pick already sounds absurd three months before the season starts.