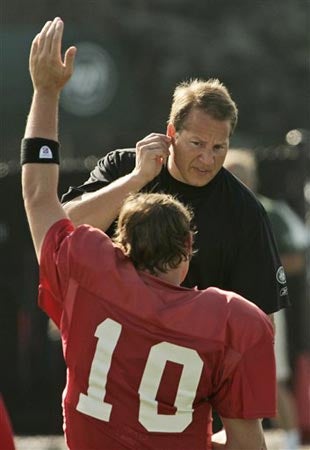 Believe it or not, folks, the NFL season is much closer than you can possibly imagine. So close, in fact, that, if we're going to fit in every NFL team preview by the start of the season, we have to go this early. So there you have it.
Last year, we asked some of our favorite writers to opine why Their Favorite Team Was Better Than Yours. Ultimately, we found this constrictive, and it also might have killed James Frey. So this time, we've just asked them to just run free, talk about their team, their experience as a fan, their hopes, their dreams, their desires for oral sex. All our teams are now assigned; if you sent us an email and we didn't get back to you, we're sorry, and we accept your scorn. But today: New York Jets.
Your author is David Goodwillie, the author of the acclaimed memoir Seemed Like a Good Idea at the Time, for which he was named one of the "Best New Writers of 2006" by members of the Pen American Center.. His words are after the jump.
——————————-
The fucking Jets. Seriously. Two years ago, they were supposed to challenge the Patriots for AFC supremacy, and they finished 4-12. Last season, rebuilding, they made the playoffs. Shockingly bad, surprisingly good, but never ever great. Not in my lifetime. Not yet.



I was one of the many who picked them to go nowhere last year. Injured quarterback. Retiring running back. New head coach and GM. Sure, most Jets fans were happy to see the backside of the Herm Edwards sideshow, but Eric Mangini seemed ill-suited for the job — a Belichick clone kicked off the muscular mothership for being out of shape. But a funny thing happened when Mangini arrived in New York. The Jets fell neatly into place. One by one, troublemakers like Ty Law and Justin McCareins were either shipped out of town or benched until they behaved. Those who remained began playing to their potential. And leaders emerged. Chad Pennington. Jonathan Vilma. Laveranues Coles. Mangini, it seemed, had inherited all of Belichick's stronger qualities (preparation, intelligence, an even temperment) and none of his weaker ones (the scary intensity, the door-knob personality, the stashed-away girlfriends). When Mangini appeared midseason on "Sesame Street" (a lovely counterpoint to the self-promoting Herm Edwards hour currently running on HBO), I knew the Jets had found their man.



But who are we kidding? The Patriots have won three Super Bowls under Belichick, and this year they look stronger than ever. And the Jets? In truth, no one has a clue. So far this preseason, the offensive has been fraught with controversy. Pennington has looked lackluster, and is clearly being challenged (though no one will admit as much) by the strong-armed Kellen Clemens. In the backfield, a similar competition is brewing between the already injured Thomas Jones, acquired in the off-season from Chicago (btw, how did the Bears win the NFC with Grossman and Jones?), and the flashy young speedster Leon Washington. But, as can only happen with the offbeat Jets, it's the offensive line that has stolen the headlines.



What the hell happened to Pete Kendall? The Jets' most reliable lineman signs a four-year contract last season, then suddenly holds out for an extra million. The last person to try that was Terrell Owens, and a few days ago Kendall met T.O.'s fate. Trading problem players is all well and good, but Kendall's sudden absence means that D'Brickashaw Ferguson and Nick Mangold need to come into their own right now. Like, next week. Otherwise, Pennington will be out for the season by October.



If the Jets make noise this year, it'll be the defense and special teams doing the shouting. They need some big games from the defensive line. They need Vilma and Eric Barton to have career years. They need first-round draft pick Darelle Revis (who remained unsigned for most of camp) to become a dominating cornerback as a rookie. And they need their Aussie punter Ben Graham and newly bulked-up kicker Mike Nugent to have Pro-Bowl seasons.



All of this might happen. And then again it might not. And that's the thing the Jets. They may be good. They may be bad. But over the years I've learned to be patient, so, like Pete Kendall, I'm holding out for something more. Greatness. Which means they'll probably trade me to Washington.