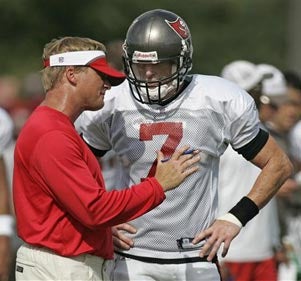 Believe it or not, folks, the NFL season is much closer than you can possibly imagine. So close, in fact, that, if we're going to fit in every NFL team preview by the start of the season, we have to go this early. So there you have it.
Last year, we asked some of our favorite writers to opine why Their Favorite Team Was Better Than Yours. Ultimately, we found this constrictive, and it also might have killed James Frey. So this time, we've just asked them to just run free, talk about their team, their experience as a fan, their hopes, their dreams, their desires for oral sex. All our teams are now assigned; if you sent us an email and we didn't get back to you, we're sorry, and we accept your scorn. But today: The Tampa Bay Buccaneers.
Your author is Russell Levine, an editor for Football Outsiders. His words are after the jump.
————————————
I never knew a 4-12 season could be so liberating.
After nearly a decade of Sunday afternoon viewing appointments with my favorite team, the Tampa Bay Buccaneers, marked by frequent yelling, throwing things and rocking back and forth in a fetal position on the edge of my couch, last season was blissfully drama-free.
It wasn't supposed to be that way. The campaign began with high expectations. The Bucs were defending NFC South champs. Chris Simms had come miles in his development. The defense, though aging, had been the league's top-ranked unit the year before.
Perhaps I should have known the optimism was a mirage when I praised Simms in last year's Deadspin preview only to have any and all commentary torpedoed by the revelation that he and Kyle Shanahan are ink buddies.
Yet their schedule seemed favorable, serving up a softy, Baltimore, in the opener. By halftime, it was 17-0, Ravens. By the gun, it was 27-zip. By Week 3, Simms was without a spleen, and the fans were actually happy about it. There was a brief flicker of hope when Simms's replacement, rookie Bruce Gradkowski, actually appeared competent, and Tampa looked like it might be able to make a playoff run in the putrid NFC.
But I knew. So complete was the domination in that opening loss that I shrugged my shoulders and accepted that the Bucs were going to stink. The worse they played, the more enjoyable my Sundays became, freed as I was from my typical three hours of torture while watching my team on NFL Sunday Ticket.
Oh, I still watched. Every snap, every game. Only now it was sometimes on a three-hour or three-day TiVo delay. My Sundays were blissfully stress-free. In a season in which my alma mater, Michigan, was making a run at a national title, my nerves needed the respite anyway.
One man who wasn't enjoying the Bucs' free fall was the head coach, Jon Gruden. He arrived as a conquering hero, a hard-ass who whipped nice guy Tony Dungy's troops into the fighting trim that carried them to a Super Bowl triumph in Gruden's first season, 2002.
Fast-forward five years, and Gruden is in desperation mode. Once one of the NFL's brightest coaching stars, "Chucky" is scrambling to save his job. As a result, the coach, along with the team's Official Rubber Stamper (aka, Gruden's hand-picked GM Bruce Allen), have been throwing money at any free agent they can find. And given that there are still a few NFL players who haven't had their fill of Mons Venus, they've had some success. Jeff Garcia, ex of the CFL, the 49ers, the Browns, the Lions, and the Eagles, arrived on the same day the team completed a trade for Jake Plummer, who has decided to retire rather than climb aboard the good ship Buccaneers. This coming mere weeks after Simms and his abdominal scar — the one that's reportedly affected his throwing so much, he's now third on the depth chart — were re-signed.
But Gruden wasn't done perusing the QB market. In mid-July, Daunte Culpepper arrived for a workout after being released by the Dolphins. Somehow, Gruden and Allen allowed him to remain on the scrap heap. They still have Gradkowski and a McCown brother to be named later. No word on if Y.A. Tittle and his walker will be in by the end of August.
Camp began with more ominous signs. On opening day, Gruden and Allen told defensive end Simeon Rice to take a pay cut or get cut. He chose the latter, which pissed off defensive leader and all-around good guy Derrick Brooks. He promptly tweaked a hamstring and was sidelined. Brooks is both a Hall-of-Famer in waiting and a civic treasure in Tampa, which might be the only thing that protects his job. Gruden and Allen have already felt the fan base's wrath after dispatching John Lynch and Warren Sapp and drastically reducing the role of fullback Mike Alstott. Messing with Mr. Derrick Brooks might be the final straw, especially as the Super Bowl memories fade.
Then again, free agency also brought the arrival of linebacker Cato June from the Colts, who only plays Brooks's position at weakside linebacker. June is a Pro Bowl performer from a Super Bowl champ, but this signing makes less sense than the trade for Plummer. June was a lousy safety at Michigan, and only made a million tackles in Indy because the rest of the defense stunk. He's too small to play the strong side or in the middle. Gruden probably doesn't have the juice to cut Brooks, but given June's contract, he'll play somewhere.
The guy who stands to lose playing time, Ryan Nece, is one of my favorite Buccaneers. Like Brooks, Nece is a tremendous community guy. Unfortunately, character mattered a hell of a lot more to Dungy than it does to Gruden, who has been busy turning Tampa into a home for wayward souls. The latest example is tight end Jerramy Stevens, whose drinking and dropped passes got him run out of Seattle.
Waiting to fight for playing time at third receiver is one David Boston, who has picked up a pair of major knee injuries, a steroids suspension and an assault charge since he was last a productive NFL player in 2002.
Bucs fans appear to be tiring of this team and its struggles. After winning the Super Bowl, the Bucs boasted a season-ticket waiting list of over 100,000 names. I know: I was one of them. I live in New Jersey, but figured the churn rate on 100,000 season tickets would probably carry into my retirement years. By the time I got the call, I'd be ensconced at Del Boca Vista.
I was only off by about 30 years. My number came up this offseason, less than five years after putting my name on the list. Since I'm not quite ready for the daily grind of shuffleboard, I'll have to pass for now.
At least my fellow Bucs fans who do attend the games will be able to drink themselves into unconsciousness if the team stinks again this season. As Deadspin readers know, a law was recently passed permitting hard liquor sales at Raymond James Stadium. The fans just might need it.
Not me. I'm taking the one of the few good ideas I've ever gotten from Bill Simmons to heart. I've still got one more year of stress-fee fandom thanks to the expiring five-year statute of limitations on fan griping following a championship.
When the season kicks off in a few weeks, I'll be hoping for the best and expecting the worst. My fellow stat geeks at Football Outsiders say the Bucs have a chance to make the playoffs. So what if this is the one team we can never seem to get an accurate read on? We thought they'd be at least a .500 club last year.
Still, a playoff run wouldn't be a complete shock, not with Tampa Bay's schedule (Hello, AFC South and NFC West). Not if Garcia can star in the role of Rich Gannon, the last castoff QB to thrive in Gruden's ridiculously complex short passing game. The competition in the NFC South isn't exactly stellar, either. New Orleans won't sneak up on anyone this year. Joey Harrington and David Carr could be the starting quarterbacks in Atlanta and Carolina, respectively, by midseason. Not exactly a murderer's row.
Sure, they'll probably melt down again and Gruden and Allen will probably get canned. Maybe the Bucs can bring back Tony Dungy. Whatever happened to that guy, anyway?