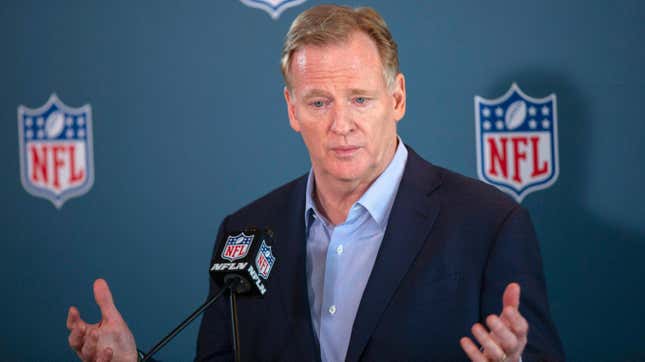 Welcome to Deadspin's The Sports Nihilist, where all is for naught and we are but accidental jolts of electrified meat stuck to the surface of a rock in an indifferent universe. Fuck you.
The season might already be over for these two
---
The NFL cleared two significant hurdles in its quest for world domination this week as owners approved the flexing of Thursday Night Football games, and an emergency third quarterback. There are a ton of stipulations for swapping out TNF matchups, and all of them are in the name of "safety." Yet if you read between the headlines, it's clear how the Shield views its workforce.

The same day that owners OK'd more possibilities to play mid-week, they also made it easier to carry a much-needed third option for teams whose first- and second-string QBs are carted off with head trauma or some other excuse. The only owner to express concern with TNF flexibility was Giants' owner John Mara, who called it "abusive" for the fans whose schedules would be changed on the fly.
My guess is Mara was placated by the caveat that teams will receive no fewer than 28 days' notice of a move to Thursday night, thus giving fans four weeks to alter travel arrangements. Everything is automated nowadays, and changing flight and hotel reservations is as easy as sending a text, eating grapes, or calling up your personal pilot for a jaunt to Prague. I know I never want, or need, to speak with a representative, so Mara can put to rest any hangups he has about the potential mistreatment of Big Blue nation.
Prioritizing personal gain
The fans are the only ones who really matter. Who else is going to spend $130 on a Daniel Jones jersey? Tell me who, if not the loyal base, will shell out gobs of cash for seats, the Sunday NFL Ticket, and collectible team-centric paperweights? The fans, not the players, move the ratings needle. All you have to do is tee up an oblong ball, and watch the revenue stream in.
If the NFL can do something to gin up a primetime contest — even if it subjects players to season- and possibly career-derailing injuries — then they should do it. Do you want NFL games on every night of the week? Of course you do, so embrace the league's pivot to quantity over all else.
There's a new Black Friday game on the schedule, and your viewership dictates how hungrily the NFL lusts for more contests on Fridays, or Thursdays, or Saturdays, or hopefully, eventually, Tuesdays and Wednesdays. Move over MAC football, because we're about to get Bengals-Steelers on a Tuesday, and if that shows any inkling of profitability, Roger Goodell will personally see to it that Patrick Mahomes appears on whatever streaming service ponies up the money to air T(uesday)NF.
Sound exhausting?
Well, welcome to nihilism. Caring about nothing is a laborious endeavor, and not giving a fuck is harder than it appears. Getting drunk and passing out in a pool still takes effort and energy.
Do you think it was easy to watch Tua Tagovailoa fence up after his second concussion in four days, and feel nothing? No sympathy, or empathy — just apathy. NFL players are but commodities for our entertainment. Disposable, renewable, and always willing to put their livelihood on the line because they get paid handsomely to do so.
NFL owners should authorize more emergency QBs
The owners should authorize a fourth and fifth emergency QB. Wheel these gladiators in and out of the colosseums — broken, beloved, or both — like the true warriors they are. Their tales will be embedded in stained glass like the stations of the cross for as long as the church of the NFL persists.
The allure of the record books is as hypotonic as the promise of the pearly gates, and the trick is to find the truest of believers. In order to care about nothing, other people have to believe in something. Or else there is no structure, and we're all left riding around in caravans, lopping off appendages with machetes, and doing nothing but amassing war chests of desires with no payoff.
The NFL is doing that right now, with all the benefits and zero anarchy. They're paving the path to enlightenment through nihilism with striking efficiency, and we all should take notes.