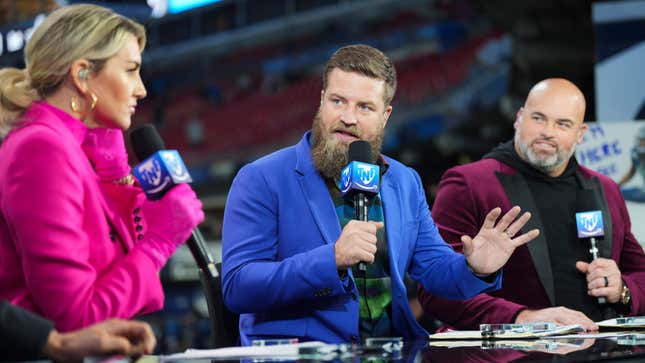 Earlier this week, NFL owners voted to pass the approval of flexing for Thursday Night Football games — given that Thursday hasn't produced the sexiest of slates to quench the appetites of starving fans. With the decision, fans will get a better game to watch and Amazon Prime gets a product to entice more folks to switch over to their streaming services. Sounds like a win-win, right? Well, there's only one problem. Players weren't in the room when the decision was made.
5 Richest active NFL players | Money Mondays
This is why collective bargaining agreements are so important, even if this subject wasn't even on the negotiating table.

With the new rule, between Weeks 13 through 17, the league can now swap a Sunday afternoon game for a Thursday night with a 28-day notice. The league is allowed two Thursday flexes per season, and no team can play on Thursday night more than twice.

A look at ESPN's TNF schedule
Here's a look at the current TNF schedule that ESPN put together, in a story in which they mentioned that Giants owner John Mara was opposed to the original version of the proposal because it was "abusive" to fans — not the players on the field who will have their routines, life schedules, and work weeks impacted:
Week 13: Seattle Seahawks at Dallas Cowboys
Week 14: New England Patriots at Pittsburgh Steelers
Week 15: Los Angeles Chargers at Las Vegas Raiders
Week 16: New Orleans Saints at Los Angeles Rams
Week 17: New York Jets at Cleveland Browns
Jerry Jones weighs in
"This should show our fans and the media industry that we'll do everything we can to make streaming on Thursday nights successful," Jerry Jones said in the report. Notice who Jones did and didn't mention in that quote. Last year, The Washington Post released a story called, "Thursday NFL games are here to stay. That doesn't mean players like them," as it explored the disdain that most players have for working on Thursday.
"It was just so awkward," Devin McCourty told SI.com last month. "Because if you just play the Thursday night game and then you go back to a regular Sunday, to me, it becomes normal again. Like, 'Alright, I'll push through this and now, we'll be back on a normal routine.' Once you mess that up, I think it's harder."
Take all of this into account when the 2023 NFL season opens on a Thursday night when the Super Bowl champion Kansas City Chiefs take on a team that hasn't won a playoff game since 1992 — the Detroit Lions.