Dallas (8-4) at Pittsburgh (9-3). Wind chill this morning was at 7 degrees, which means Steelers coach Mike Tomlin will come out wearing Bermuda shorts and a tank top. Wade Phillips will enjoy one of the few benefits of "natural insulation" today. I don't understand how, at 8-4, everyone is counting Dallas out of the playoffs, especially since they're 3-0 since their bye week.
Miami (7-5) at Buffalo (6-6). AFC East division game. JP Losman is getting the start over an injured Trent Edwards. This is the game being played in Toronto, which excites absolutely no one.
NY Jets (8-4) at San Fran (4-8). Brett Favre's arm takes on Mike Singletary's puckered starfish. Pick 'em.
New England (7-5) at Seattle (2-10). Goddamn Matt Cassel will try to get his team into the postseason; they're currently 7th in the AFC. New England hasn't missed the playoffs since 2002.
Kansas City (2-10) at Denver (7-5). AFC West division game, with Denver looking to extend their lead. They're the only team there with a winning record, making this quartet the new AFC South.
G/O Media may get a commission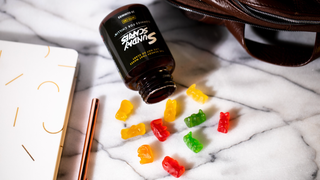 10mg CBD Gummies (22-Count)
St. Louis (2-10) at Arizona (7-5).
Your 1 PM Updates; these games are winding down if they're not already over.

Minnesota 17, Detr0it 16. Minnesota is driving here. Adrian Peterson just got benched after his fourth fumble. The Vikes might have this one wrapped up.
Chicago 20, Jacksonville 10.
Philadelphia 17, NY Giants 7.
Atlanta 25, New Orleans 22.
Indianapolis 35, Cincinnati 3.
Tennessee 21, Cleveland 9.
Houston 21, at Green Bay 20.