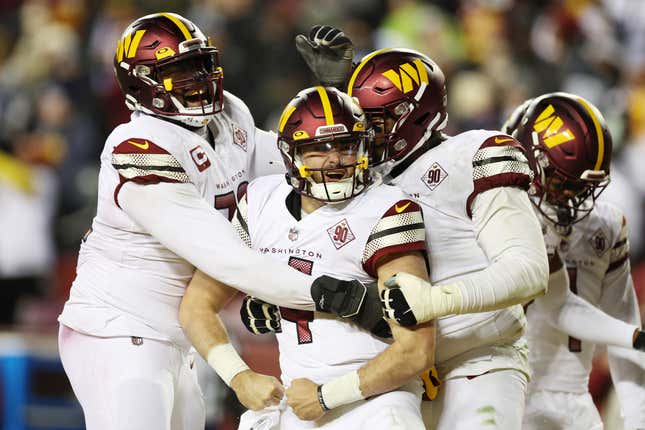 Renewed hope for the Washington Commanders is on the menu in 2023. New ownership will have an opportunity to leave their imprint on the organization eventually. But for now, the direction of the Commies 2023 season rests in the relatively small hands of its anointed Tank Commander Sam Howell. Tank commanders are the quarterbacks barren teams bring in if they need to lose as many of the 17 games on your schedule as possible so that they can plunge into the draft for special talent. It's dirty work, but someone's gotta do it.
Which under .500 team makes the NFL Playoffs?
Hype merchants will tell you that Howell is something special. The jury is still out on whether Howell is either the next Kirk Cousins or the latest data point in Washington's history of day-trading penny-stock quarterbacks. The reality is that the range in where Howell fits in the type of quarterback play we see from Howell next season rests somewhere between a quarterback put in place for a reset tank in the same vein as Josh Rosen marching through the Cardinals 2027 schedule like Napoleon at Waterloo and clearing the runway for Kyler Murray to plop down in Arizona or Brock Purdy locking down the San Francisco's franchise quarterback role out of nowhere.

In recent Redskins infamy, Rex Grossman's 2011 disaster class during a season in which he game-managed for 13 starts and still managed to toss 20 interceptions to just 16 touchdowns during the Redskins 5-11 season is often forgotten for propelling Mike Shanahan's Redskins toward the No. 2 pick and Robert Griffin III.

The prize at the end of the 2023 season is the right to select Heisman-winning quarterback Caleb Williams first overall in 2024. It helps that Williams is a uniquely charismatic and electrifying dual-threat passer who hails from the DMV area. It almost feels serendipitous and opportunities like this don't arrive very often. However, Sam Howell is the name every despondent Commanders supporter will be muttering to their therapist if they finish around 8-9 again.

Following his sophomore season at UNC, Howell was about where Williams is now and projected to be the number one quarterback taken in a weak 2022 draft class. However, his junior year was hampered by talent drain at skill positions and scouts knocked him for having too many balls batted down at the line of scrimmage, causing him to tumble. What Howell lacks in size, he makes up for with solid evasive mobility. After developing RPO and misdirection plays for Patrick Mahomes the last five seasons, former Chiefs offensive coordinator Eric Bieniemy will be tasked with using those concepts to take advantage of Howell's agility in and out of the pocket.
Each of the aforementioned quarterbacks was thrust into the deep waters without a boat, a paddle, or a floatation device and instructed to find their way. In that same draft former team president Bruce Allen plucked RGIII from, Washington also stumbled onto Kirk Cousins in the fourth round. And while the preseason murmurs indicate that Howell could be closer to the Kirk Cousins side of the spectrum than Grossman, only one out of every 20 late-round quarterbacks turns into a 10-year starter. For every Cousins, there are a dozen Colt McCoy, John Beck, Todd Collins, Mark Brunell, Tim Hasselbeck, Tony Banks, and Taylor Heinicke archetypes.

Next season, Howell faces quite an uphill climb. New offensive coordinator Bieniemy is tasked with juicing up a lifeless offense. Unfortunately, an artist is only as skilled as their tools. Tanking is an art that rests on the arm talent, or lack thereof, of the sacrificial lamb sent out there to take one for the team.

The Commanders ended last season at 8-8-1, the picturesque Webster's definition of average, and their offseason transitions amid the ownership change consisted of luring Bieniemy to D.C., signing quarterback Jacoby Brissett for stability, and extending defensive tackle Daron Payne.

The last time Washington was in a position to draft a luxury quarterback inside the top five, they passed on Tua Tagovailoa and Justin Herbert for a pass-rushing threat in the form of Ohio State's Chase Young. I want to call them boneheaded for chasing a sack artist over supreme talents at the NFL's most impactful position, but there was a litany of like-minded football know-it-alls who endorsed that low-risk, low-reward approach to drafting in 2020.

In three seasons, Young has accumulated only 9 sacks. Since the turn of the century, Washington has given its fanbase motion sickness as they rotated through a carousel of feeble starting quarterbacks. With that history in the rearview mirror, pardon me if I don't buy the same preseason pitch for the 15th time this millennium that Washington struck gold with a late-round project. Howell is virtually guaranteed to begin this season as the incumbent starter, but if he falters early Ron Rivera might begin feeling the heat to give Brisset an opportunity to do what he does best by leading drives that stall out in field goal range and playing .500 football for a team that is content paddling in place.

He'll keep you in playoff contention until the month of December, by being resourceful enough to win them enough games to keep Rivera employed until Black Monday. Rivera deserves better, but his one-year deal with an incoming regime makes this feel like a finale for Synder-era executives who've made a mess of the NFL's most important position for 20 years. It's not that Washingtonians should want Howell to fail, it's just that if he's not a bonafide top-10 guy or at least fringe-top-10 passer, he's dooming them to mediocrity while they move seats around the Titanic's deck.

Howell is starting from the bottom of the NFL card deck as the ultimate wildcard although he does have weapons like Terry McLaurin at his disposal. However, the odds are against him. Tales of inexperienced late-round quarterbacks playing for lame-duck coaches rarely end well. For a Commanders' organization in need of a reset, that may not be such a bad thing.