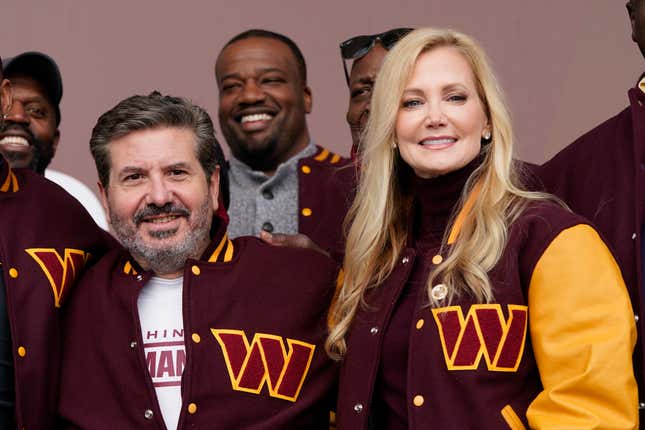 Dan Snyder has reached an agreement to sell the Washington Commanders to a group led by Josh Harris, co-owner of the Philadelphia 76ers and New Jersey Devils.
Is Dan Snyder a human shield for Jerry Jones? | Conspiracy Thursday
The group agreed to buy the once-proud franchise for a whopping $6.05 billion, according to ESPN. This exceeds the $4.65 billion that Rob Walton paid for the Denver Broncos.
"We are very pleased to have reached an agreement for the sale of the Commanders franchise with Josh Harris, an area native, and his impressive group of partners," the Snyders said in a statement. "We look forward to the prompt completion of this transaction and to rooting for Josh and the team in the coming years."
There were rumors Snyder, who bought the then-Redskins in 1999 for $800 million, would keep the franchise if his demands for indemnification weren't met.
The deal, which includes FedEx Field, and the team's practice facility, is still subject to approval by the NFL.
The Commanders — a franchise with three Super Bowl titles — haven't won a playoff game in almost 20 years.

Hard Knocks meets Succession
As our DJ Dunson wrote, the saga of Dan Snyder's selling the Washington Commanders has had more twists and turns than Waystar Royco in HBO's Succession.
Snyder's tenure has been marred by drama, which includes allegations that Snyder enabled sexual harassment.
As we've previously noted, in a 78-page report, Congress detailed the contemptible job that Daniel Snyder has done as the franchise owner, and also how the NFL did not take enough steps to thwart his evil reign.
"The results of the Committee's investigation, as laid out in this report, are clear: sexual harassment, bullying, and other toxic conduct pervaded the workplace at the Washington Commanders and were perpetuated by a culture of fear instilled by the Team's owner," reads a paragraph on the second to last page of the report.
As Jane McManus wrote, there's no way Snyder should be let off the hook for all the damage wrought in Washington during his time as owner of the variously-named football team there.
In addition to running a toxic workplace, Snyder was alleged to have kept separate financial records for around a decade.
Snyder also allegedly prevented billionaire Amazon founder Jeff Bezos from joining a private auction for the Commanders due to a long-standing grudge.
And let's not even get into all the name changes...