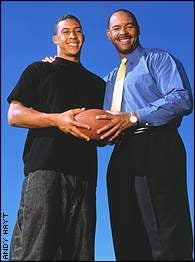 • Buffalo went for a 4th down and a half yard inside the Patriots 10 early in the 2nd half. They were not successful. Tom Brady marched the ball up the field on the ensuing possession, the Pats scored a relatively easy touchdown, and that, my friends, is what we call a turning point. Pats win, 19-17.
• You'll all be happy to know that Kellen Winslow Jr. scored a touchdown today, celebrating his return to active duty.
• The Texans are going to lose to the Eagles, fairly convincingly, but... they didn't seem as terrible today as they have for the past couple of years. They did some things well. David Carr's numbers were actually pretty solid: 18-of-26 for 208 yards, 1 TD, and 0 interceptions. Andre Johnson caught six balls for 101 yards.
• The Falcons did the Panthers dirty in their own house. And I know they didn't have Steve Smith, but that's no excuse to give up over 240 rushing yards. Michael Vick completed less than 50 percent of his passes, but seemed to be inspired by his late night tryst with Mack Brown last night.
• The Ravens have absolutely destroyed the Bucs. Of course, they had a lot of help from Chris Simms, who tossed three interceptions. I've gotta see that one as the most surprising result of the day. Not necessarily that the Ravens won, but that they won so convincingly.
NFL Scoreboard [NFL.com]