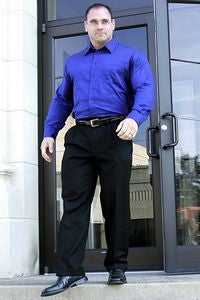 It was only a matter of time before this whole shady steroids-in-the NFL business got a little Dateline-like momentum, and today, it happened.
Police found 35-year-old David Jacobs and his 30-year-old ladyfriend shot dead in their homes. Murder-suicide? NFL Players' union mob-style hit? There are still lots of questions to be answered. This is what the NFL has to say about all this:
We offer our sympathy to the families of David Jacobs and Amanda Jo Earhart-Savell.As we have previously confirmed, our security representatives interviewed David Jacobs on two occasions. We are reviewing the information to determine if there is documented evidence establishing any violations of our program and will follow up on any other information that is provided. It is premature to comment on any specific player at this time. Anyone found to have violated our policies will be subject to discipline, including suspension. We will continue to be responsive to any needs of law enforcement on this matter."
The New York Times also had this eerie little ending to their story.
"What's new on your side of the world?" he [Jacobs] wrote in a text message on Friday. "Things here in Dallas are pretty quiet, actually."
Oh, not too much, Dave. Besides the fact that, oh... Leitch just fuckin' quit!
Convicted Steroids Dealer Who Gave Names To NFL Found Dead [ESPN]

Steroids Dealer And Girlfriend Found Dead At Home [NY Times]
Con